Zdeno Chara talks broken jaw, 'co-captains' role with Patrice Bergeron
Peter Tanner, 2 months ago
9 min

read
29
[ad_1]


Bruins
"I just felt like it was the right thing to do."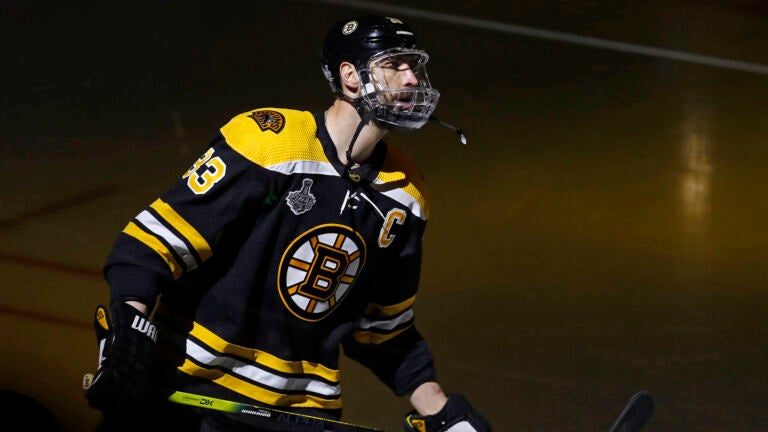 Zdeno Chara is widely regarded as one of the greatest free-agent signings in NHL history.
Beyond his numerous individual accolades, Chara captained the Bruins to their first Stanley Cup in 39 years. But before departing to the Capitals, the future Hall of Famer orchestrated a culture change in Boston that carries on today through veterans like Patrice Bergeron and Brad Marchand.
The former defenseman joined the "Spittin' Chiclets" podcast and shared plenty of memories from his 14-year run in Boston. 
Here are a few noteworthy segments from Chara's interview:
Blenders (and painkillers) helped Chara play through broken jaw in 2019 Stanley Cup Final
The Bruins fell short against the Blues in the 2019 Stanley Cup Final. But the seven-game bout led to one of Chara's signature moments in a storied career.
After breaking his jaw during Boston's Game 4 loss in St. Louis, Chara underwent surgery the following day. He didn't miss a single game for the Bruins, playing the final three games and averaging 18:23 of ice time.
His mangled jaw wired shut and covered by a full face shield, Chara received a rousing ovation from the TD Garden crowd ahead of Game 5.
Chara admitted that he tried to return in Game 4 after a deflected puck shattered his jaw in multiple places. Before going under the knife the following day in Boston, it was an excruciating stay in St. Louis.
"We stayed overnight in St. Louis. I didn't sleep a bit. It was just the bleeding, pain. Just kind of waiting and waiting for the morning to come," Chara said. "Finally got on the plane, went right from the plane to the hospital, had my surgery done. Woke up from my surgery and I'm actually feeling pretty good. … So Don Sweeney [and] Cam Neely came to see me and they're like 'How do you feel?' I'm like, 'I'm feeling good. I think I'm going to try to play.'
"They're looking at me like, 'Uh, whatever — he's still probably under the influence of morphine.' But I'm actually feeling pretty good. So now I'm talking to doctors, and they all give me the precautions of what can happen, right? And like, 'Well, okay, I'm willing to take it and I want to go out there.'"
Beyond his face shield, Chara had no restrictions during the next morning skate at TD Garden. But getting off the ice led to a slew of new challenges.
"I'm like, 'Okay, I'm feeling good. Then the lunch comes and like, 'How am I gonna eat lunch? So there's a blender and I'm trying to get as much in me as possible, but it's tough," Chara said. "It's tough to kind of refuel after. But I just felt like it was the right thing to do and wanted to go out there and just help the team."
Chara, who added that he felt no pressure from the Bruins to play with his injury, acknowledged that he had more issues than just his jaw during the 2019 Stanley Cup Playoffs.
At that time, I didn't know I had a broken elbow, I had torn groin. I had the jaw," Chara said. "So I was under painkillers, but I only could take so much that would be healthy. So you still felt obviously the pain every time you got hit."
Chara views Patrice Bergeron as a vital 'co-captain' during his time in Boston
Chara held the role of captain in Boston from 2006 to 2020. But the imposing blueliner didn't isolate himself as the lone foundation in the B's dressing room.
The Bruins stitched the "C" onto Patrice Bergeron's sweater in January 2021. Chara believes his longtime teammate was equally as important at setting the tone for the rest of the roster.
"It was a great balance between me and Bergy," Chara said. "Patrice is just an unbelievable leader, unbelievable human being, person. Outgoing. It was great for me to have him because he was what I wasn't. And I said it, we were co-captains. It was not that I was the guy.
"I couldn't make the right calls all the time. It's always better to have other guys saying to me, like 'Hey why don't we try this? Yeah, f—ing right. That's great.' I enjoyed that. And Patrice was … my wingman for 14 years."
Ray Bourque played a key role in pitching Chara on Boston
Chara had multiple suitors by the time he hit free agency in the summer of 2006. While deliberating his next destination, the 29-year-old defenseman received a tempting pitch from Bruins legend Ray Bourque that resonated with him. 
"I was looking for the opportunity to be a leader," Chara said of his priorities that offseason. "Nothing was guaranteed. But I knew that Peter Chiarelli was going from Ottawa to Boston as a GM. So I knew, 'Okay, he knows me, he knows who I am, what kind of a player, what kind of character I am.' Obviously, the captaincy was vacant. But to me, I got a call from Ray Bourque and some former players telling me about the organization and the opportunity.
"And they all said the biggest need was changing the culture. And I said, 'You know what, I'm going to embrace it.' I can't tell you that I was comfortable. Because it's a huge challenge. And it's a huge amount of responsibility. But I was excited."
Chara was named the 19th captain in Bruins history the same day he signed his five-year contract with the team on July 1, 2006.
Bruins' culture change revolved around setting a new "standard"
As daunting as the challenge was to assume the captaincy of an Original Six franchise, Chara didn't augment his approach as he tried to shift Boston's team culture. 
"I tried to really set the standards for changing the culture by being me, basically," Chara said. "I came to training camp and I said, 'I'm gonna be the strongest, fittest guy. And I'm gonna let everybody know that, because that's the standard. I want to set the standard. … I started to play as hard in the practice or even harder than in the games.
It happened that there were some fights in practice. But again, you're setting some sort of footprint that 'Okay, this is gonna change, we're gonna change it and we're going to do it together.'"
Another priority for Chara was to prohibit the customary hazing that usually befalls rookies in an NHL dressing room.
"Probably what I dealt with at a very young age," Chara said of the reason for curtailing that behavior in Boston. "Growing up — I don't want to talk about the details, but … the bullying was part of growing up, maybe back home a little bit. And I said, 'One day, if I ever have a chance to change that out, I'll make sure to change it.'
"I don't like to do it. I don't like to put anybody down. I don't like to embarrass anyone. I think that you got to realize that if you point a finger at somebody, there's three, four fingers pointing back at you. So I just didn't like it."
Chara is enjoying retired life
Chara's No. 33 sweater will be raised to the Garden rafters at some point. But for now, the 45-year-old is taking it easy after hanging up his skates in September. 
Rather than dole out pain on the Garden ice, most of Chara's evenings now revolve around taking his twin sons, Zack and Ben, to hockey practices and games.
Chara, who holds a real estate license in Massachusetts, is keeping his mind sharp off the ice. He admitted on the podcast that he's taking financial literacy courses online with Harvard Business School. 
As for watching Bergeron and the 2022-23 Bruins, Chara has been impressed with what he's seen.
"I came to see about three games, four games," Chara said of watching the Bruins. "But not a whole lot. I mean, it's kind of late coming home after the games and I like to get up early these days — around 4:35 a.m. and go for a run or bike ride and then get my boys and my kids ready for school. So it would be tough to come home at 11:30 after the games. But I went to about three or four games. But watching them, it's just incredible. They're just beating everybody."
Newsletter Signup
Stay up to date on all the latest news from Boston.com


[ad_2]

Source link
Related posts