Xander Bogaerts, others react to Rafael Devers' megadeal
Peter Tanner, 3 months ago
5 min

read
33
[ad_1]


Red Sox
Bogaerts was far from the only former Sox player to commend Devers on his new contract extension.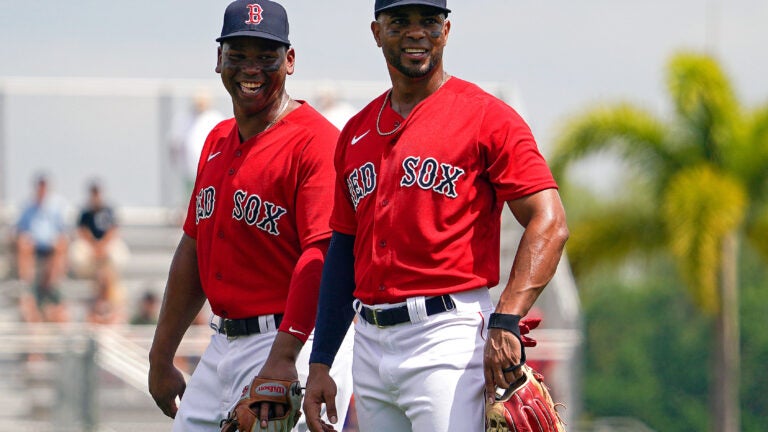 When you sign a $331 million contract, you're going to get plenty of well wishes sent your way.
And sure enough, as soon as Rafael Devers reportedly agreed to an 11-year contract extension with the Boston Red Sox, many current and former Sox players took to social media and other outlets to both offer congratulations and react to Boston's heftiest contract in franchise history. 
Here are a few notable reactions to Devers' blockbuster contract.
Xander Bogaerts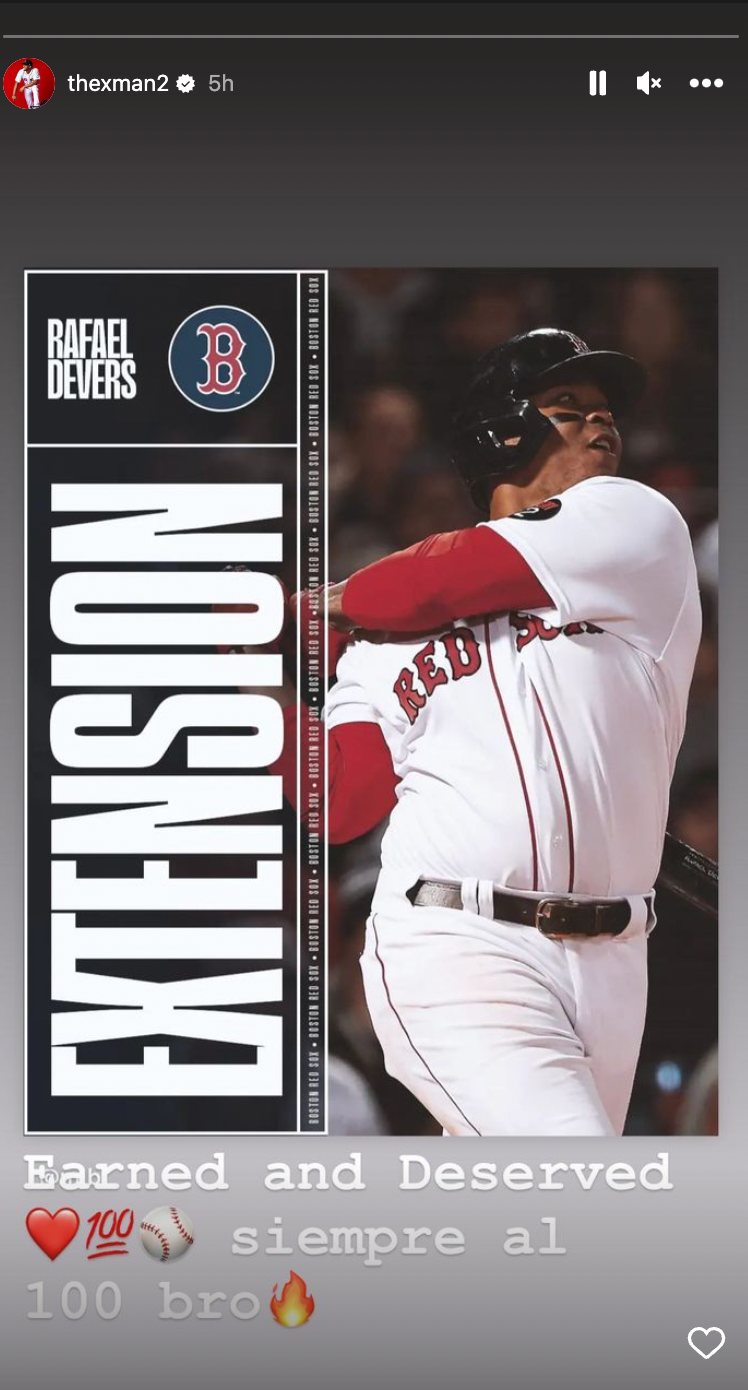 It's been a pretty lucrative winter for Devers and Bogaerts, with both infielders inking contracts that will pay them a combined $611 million.
Of course, Bogaerts will now be playing out the majority of his career on the West Coast after signing an 11-year, $280 million contract with the Padres last month. But the longtime Boston shortstop — and close friend of Devers — joined the chorus of players praising Devers' new payday on Thursday morning via a post on his Instagram story.
"Earned and deserved," Bogaerts said of Devers' new contract.
Bogaerts and Devers may not be in the same clubhouse moving forward, but both All-Stars will reunite in late May when Boston takes on the Padres in a three-game series out in San Diego.
Jake Peavy
As eye-popping as the payout on Devers' contract might be, former Sox pitcher and 2013 World Series champion Jake Peavy believes it was worth it for Boston.
"This is the best deal of the winter," Peavy said on MLB Network on Wednesday. "This guy's 26 years old. He's a stud in the prime of his career. You're talking about he's only to year 37 if we're looking at it. He's gonna grow and now you have a cornerstone that's healthy, that you build around and you add pieces… I can't express how big this is. 
"You lose Xander, this is Xander's best friend, he helped him come up. He holds all of the same values and traits that Xander holds. He's now going to push that through the Boston system. Huge news."
Even though Devers' contract stands as the sixth-largest deal in MLB history in total value, it ranks 15th overall in annual salary ($30.09 million) — and should continue to push down the list as more players sign larger deals over the next decade.
"This is saving Chaim Bloom's offseason," Peavy added. "Now we've had a good offseason and you have a figure to build around for 11 years. Your David Ortiz for the next 11 years. As good a left-handed bat as [there is] in the league for the next 11 years. Hats off, Boston."
Cliff Floyd
Floyd, who played one season with the Red Sox back in 2002, also appeared on MLB Network with Peavy on Wednesday and shared a similar sentiment.
"You can turn this around if you're the Red Sox," Floyd said on MLB Network. "If you talking about [Shohei] Ohtani. He's gonna be a free agent soon, [Juan] Soto, [Manny] Machado. So if you want to win and be relevant in that tough division in that AL East, you can do it pretty quick. And this, to me, is why you sign that deal if you're Rafael Devers. Because you're getting some confirmation from them that we're gonna turn this around quickly."
Kiké Hernandez
The Sox infielder/outfielder might have had the best — and most succinct — reaction to Devers' new contract, posting just a lone photo of a shocked Devers shortly after Wednesday's news broke.
Nick Pivetta
The Sox pitcher also kept things brief with his reaction on Twitter, offering up the classic eyes emoji on Wednesday night.
Newsletter Signup
Stay up to date on all the latest news from Boston.com


[ad_2]

Source link
Related posts