[ad_1]


The Boston Globe
Local pharmacies are having trouble keeping children's products like liquid Tylenol and ibuprofen in stock.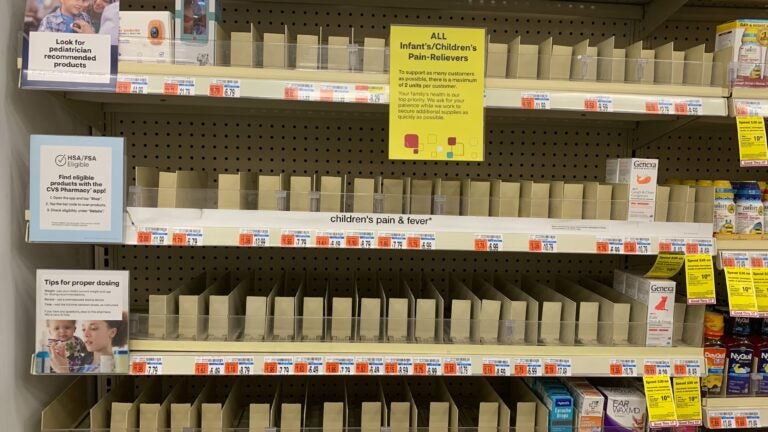 By Dana Gerber, The Boston Globe
With cases of COVID-19, the flu, and RSV surging this winter, children's cold and flu medicines are growing sparse on drugstore shelves. And even some adult varieties are proving harder than usual to find.
An "unprecedented level of respiratory need" — as over-the-counter drugmaker Procter & Gamble put it in a statement — has local pharmacies struggling to keep pediatric products like liquid Motrin or Tylenol on shelves.
Supply of children's cold medicine has been a challenge for several months, said Michael Santos, pharmacy manager at the Hamilton Pharmacy in Dorchester. Now? He's completely out of stock.
"In terms of a retail level, it's been impossible to get," Santos said. People settled with generic medicines at first, he said, but now "even that stuff has been bought up."
And while the shortage of children's medication has lasted for more than a month, kids aren't the only ones coming up short when it comes to cold and flu products. Eric Ndi, a pharmacist at Kornfield Pharmacy in Roxbury, said popular items such as NyQuil and DayQuil are "mostly on backorder." For Kornfield, the supply issues with adult medications actually predated the issues with children's medicine.
Unlike last year's baby formula shortage, which was fueled by a factory shutdown, the trouble with cold and flu medication is a case of demand outstripping supply as the "tripledemic" persists, according to a statement from the Consumer Healthcare Products Association. Indeed, both Proctor & Gamble, which makes NyQuil and DayQuil, and Johnson & Johnson, which manufactures children's Tylenol and Motrin, said in statements that they are running their plants 24 hours a day, seven days a week.
"Manufacturers are producing at full capacity and directing product inventory to where it is needed most," said the CHPA statement, which urged people not to stockpile the medications.
The shortage is causing retailers to take supply issues into their own hands. Walgreens, citing "supplier fulfillment challenges," is now limiting online customers to six pediatric fever-reducing products per order. At CVS, both online and in-person customers can purchase only two child pain-relief products "to ensure equitable access for all our customers," according to their website.
And while children's fever-reducing products are in stock on Amazon, delivery dates vary widely; one 4-ounce bottle of grape-flavored liquid Tylenol estimates a delivery date between Jan. 26 and March 3.
"We know there's a high demand, obviously, but as a mom, it's unbelievable to go to seven different stores in a day and not be able to get the medicine you need for your kid," said Bonnie Molino, a Beverly resident. On Tuesday, she had to pick up her 5½-year-old son from school when he had a 103-degree fever. All she had was children's Tylenol, and "luckily he responded to that," though she would have preferred to give him Motrin, she said.
Molino said a school nurse told her that if things get really desperate, she could crush up a bit of an adult tablet and mix it in with applesauce or ice cream.
"If we're really at the point where I'm crushing up adult medicine and trying to figure out the dose on my own, it's a little scary," she said.
Over Christmas, Magen Price of Melrose had trouble finding Mucinex and Nyquil when several adult members of her family fell ill. Even store brand medications were in scant supply.
"We weren't being picky, but it was so hard to find stuff," she said.
These days, though, Price is more focused on tracking down children's medications for her 8-month-old baby and her 3½-year-old. She got half a bottle of children's Motrin from another mom in the area, and is hoping her husband can hunt down more at CVS.
"You don't want to stock up and hoard it, but when you see it, you really want to get it, because it really does seem like every single week at least one of them is sick," said Price, a nurse practitioner. "They need to get better, and we need to get back to work."
With kids now going back to school following winter break, it is unclear when or how the shortage will resolve. (Amoxicillin, a liquid antibiotic typically given to children, also remains in short supply.) Nikita Zinin, the pharmacy manager at Central Pharmacy in Allston, said that two or three times a day, people come in looking for liquid Tylenol and ibuprofen and he has to turn them away.
"It's a little bit concerning," said Zinin. "I have two kids as well, so I'm trying to figure out where I'm getting it when they're sick."
Globe correspondent Hannah Nguyen contributed to this report.


[ad_2]

Source link
Related posts