Winning numbers drawn in Mega Millions jackpot worth nearly $1 billion
Peter Tanner, 3 months ago
6 min

read
31
[ad_1]


National
It was not yet clear Friday night if anyone had won the jackpot of nearly $1 billion. The winning numbers were: 3, 20, 46, 59, 63, and the gold Mega Ball 13.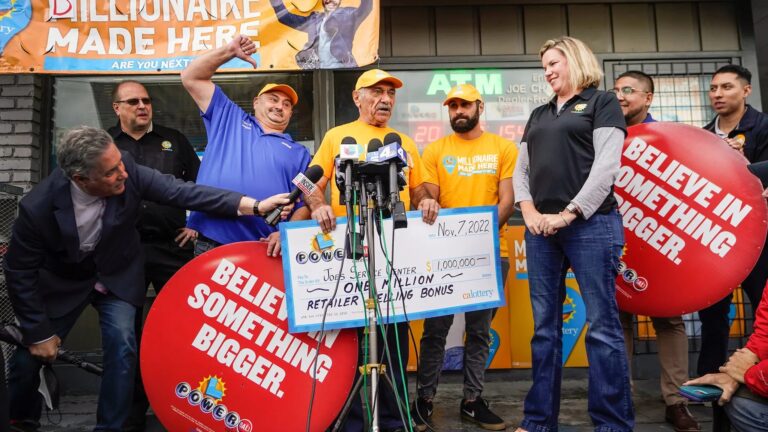 By Jesus Jimnez, New York Times Service
The winning numbers were drawn Friday night for the Mega Millions jackpot prize of roughly $940 million.
The numbers were 3, 20, 46, 59, 63, and the gold Mega Ball 13. It was unclear shortly after the drawing if there was a winning ticket.
Because no one had won the previous 23 drawings, the jackpot for Friday night's drawing grew to roughly $940 million, with a cash option of $483.5 million if the winner, or winners, want to be paid in one lump sum.
If this drawing has a winner, or winners, it will represent the sixth largest lottery jackpot in U.S. history, and the fourth largest Mega Millions prize.
Since 2016, two Powerball jackpots have surpassed $1.5 billion, and three Mega Millions jackpots have grown to more than $1 billion. Two of these super jackpots were in the past year.
Here's a look at the 10 biggest jackpots so far.
1. $2.04 billion
The largest lottery jackpot to date was also the most recent. The winning ticket, which was drawn in the Nov. 7 Powerball, was from California, sold at Joe's Service Center in Altadena, a gas station just north of Pasadena.
Lottery officials said the ticket holder was the first lottery billionaire in the state. It was unclear whether the winner had claimed the prize. A spokesperson for the Powerball said the vetting process for winners in California could take months.
2. $1.586 billion
The second-biggest jackpot was split three ways. The winning Powerball numbers were drawn on Jan. 13, 2016, with matching tickets bought in California, Florida, and Tennessee.
"I think we can all live on $528 million, don't you think?" Russ Lopez, a spokesperson for the California Lottery, said at the time.
3. $1.54 billion
The largest Mega Millions prize was the third-largest jackpot overall, with the winning ticket drawn on Oct. 23, 2018, in South Carolina.
It took awhile for the prize to be claimed. In March 2019, an anonymous winner came forward through a lawyer, opting to cash in a one-time lump sum of $877,784,124 instead of taking payments over 30 years.
4. $1.337 billion
One lucky person in Illinois bought the winning Mega Millions ticket on July 29. After several weeks, a winner came forward. Once again, the winner's identity was unknown, because Illinois law lets big winners keep their names and addresses confidential in most cases.
5. $1.05 billion
A group identified as the Wolverine FLL Club of Oakland County won a ticket for just over $1 billion in the Mega Millions drawing on Jan. 22, 2021. Someone picked the numbers at a Kroger grocery store in Novi, a city of about 60,000 people that is 30 miles northwest of Detroit.
6. $768.4 million
Manuel Franco of Wisconsin won a $768.4 million prize in the Powerball drawing on March 27, 2019. The sum was enough for Franco to quit his job within two days of winning.
Wisconsin has no law protecting the identities of people who win lotteries, which means Franco was required to come forward publicly.
7. $758.7 million
A 53-year-old health care worker in Massachusetts became a millionaire when she won the Powerball on Aug. 23, 2017. The winner, Mavis Wanczyk, opted for a lump-sum payment of $480.5 million. But after taxes — 25% to the federal government and 5% to her state — she took home $336 million.
8. $731.1 million
A hefty sum of more than $700 million went to the buyer of the winning Powerball ticket on Jan. 20, 2021, in Maryland. Lottery winners there can choose to remain anonymous. Whoever it was accepted the prize under the nickname "The Power Pack."
9. $699.8 million
Scott Godfrey of California became a millionaire when he won the Powerball on Oct. 4, 2021. Godfrey opted for the lump sum of $496 million before taxes. He told KSBY that he planned to donate some of that money to charity.
10. $687.8 million
Two winners, one in New York and another in Iowa, had to split the Oct. 27, 2018, Powerball prize of more than $687 million.
The winner in Iowa was Lerynne West, a mother of three from Redfield. She told The Des Moines Register that she asked a store clerk to randomly generate the numbers for her.
The New York winner was Robert Bailey of Manhattan. He said in 2018 that he had been playing the same numbers — 8-12-13-19-27-4 — every week for 25 years.
This article originally appeared in The New York Times.


[ad_2]

Source link
Related posts