[ad_1]


Red Sox
Boston plans to go with a pair of internal options to replace the departed Xander Bogaerts and the injured Trevor Story.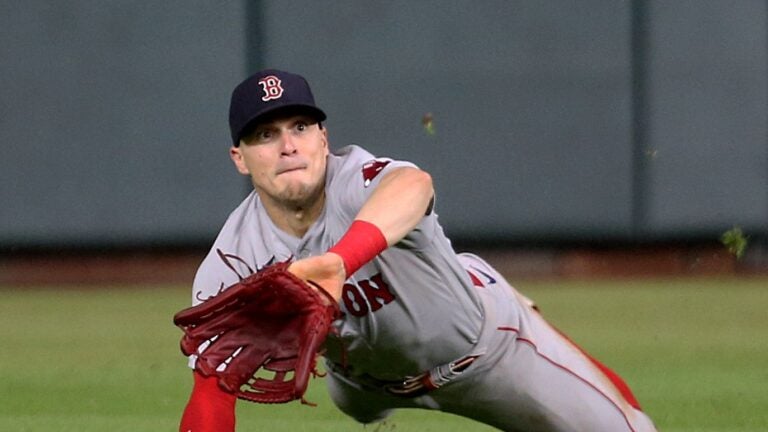 The Red Sox appear to be sticking with an internal option to replace Xander Bogaerts at shortstop to begin the 2023 season.
Ahead of Red Sox Winter Weekend, manager Alex Cora and chief baseball officer Chaim Bloom indicated that Kiké Hernández will play shortstop.
"He's excited about it," Cora told reporters. "I do believe he can do it. His arm plays. His first step is amazing. His instincts are great. He's very excited about it."
Bloom said that the Red Sox "have a lot of confidence" in Hernández's ability to play shortstop.
"We have [had confidence] this whole way," Bloom said. "It's one of the great things about him. He's basically a plus defender wherever you put him on the field. There's not many guys in baseball you can say that about."
The reported signing of outfielder Adam Duvall made Hernández more flexible to play in the infield this upcoming season. While he's played seven different positions over the course of his eight-year career, Hernández has played just 100 of his 924 career games (618 innings) at short.
The infield position that Hernández has played the most over his career, second base, will be occupied by someone else. With Trevor Story out four-to-six months following elbow surgery, Christian Arroyo looks to be the likely top candidate to be the Red Sox' starting second baseman to open the season.
Arroyo has played 91 regular-season games at second base for the Red Sox over the last two seasons and has played just 144 games total as he's missed time due to injuries and COVID-19.
Bloom acknowledged that while Arroyo hasn't had a "consistent" chance to play second base over his six-year career, he believes that Arroyo's "shown everyday ability" when he's played.
Since joining the Red Sox in 2020, Arroyo's committed just one error while playing short and has provided a solid bat. He's hit .273 with a .747 OPS to go along with 15 home runs and 69 RBIs over 158 games with the Red Sox.
Cora thinks that Arroyo, along with Hernández (who has hit .238 with a .721 OPS and 26 homers in 227 regular-season games with the Red Sox) and Duvall (who has hit at least 30 homers in three of the last six 162-game seasons), help give the Red Sox "power" at multiple positions, adding that "we're in a better spot than we were a few weeks ago and probably last year."
However, Cora also recognized the health issues surrounding Arroyo, though he remained optimistic that it could work out.
"Christian is going to play a lot," Cora said. "This is a guy that I know there's a lot of red flags as it pertains to the physical part of it with injuries. But when he's on the field, he's a pretty good one. The way he played second base in 2021 was solid.
"He's a very talented kid who can run the bases, who can play good defense, and when he's on, he's a good hitter. So as of now where we at, Christian's going to get a lot of repetitions at second base."
Bloom mentioned that the Red Sox still want to add a depth piece for the middle infield, saying, "I wouldn't rule out anything. We have to make sure we're opportunistic."
The Red Sox are considering signing one of Elvis Andrus, Josh Harrison, and potentially Jurickson Profar, the New York Post's Jon Heyman reported Friday.
Andrus, 34, certainly seems to be the top option from that group. The shortstop hit .249 with a .707 OPS and 17 home runs to go along with 18 stolen bases while playing for the Athletics and White Sox last season. Meanwhile, Harrison brings the most versatility as he played a handful of games at third base last season in addition to playing 90 games at second base.
Former Red Sox shortstop Jose Iglesias could be an option, too. The free agent played 116 games at short for the Rockies last season, posting a .981 fielding percentage to go along with a .292 batting average and a .708 OPS.
Iglesias, who began his career playing shortstop in the Red Sox' organization, made his return to Boston in the final month of the 2021 season playing second base. He played a key role in helping the Red Sox reach the playoffs that season, hitting .356 over 23 games.
Sign up for Red Sox updates⚾
Get breaking news and analysis delivered to your inbox during baseball season.


[ad_2]

Source link
Related posts