[ad_1]


Crime
They face 20 to 60 years in prison if convicted.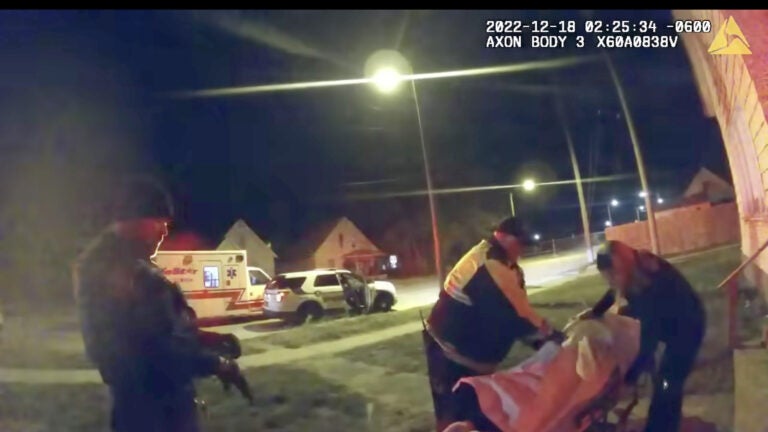 By Jonathan Edwards, Washington Post
Two paramedics were supposed to help Earl Moore Jr. last month as he endured hallucinations brought on by alcohol withdrawal. Instead, they killed him, authorities said.
Police officers were the first to arrive to the house in Springfield, Ill., after receiving a call from a man in distress on Dec. 18. Finding Moore lying in his bed, incoherent but not in immediate danger, they radioed for paramedics to provide medical help. Peggy Finley, 44, and Peter Cadigan, 50, both emergency medical technicians with the private company LifeStar Ambulance Service, got there some 15 minutes later, around 2:20 a.m.
After arriving, Finley and Cadigan strapped Moore facedown to a gurney, loaded him into their ambulance and drove him to the hospital.
Less than an hour later, the 35-year-old was dead.
On Tuesday, the Sangamon County prosecutor announced that both EMTs had been charged with first-degree murder. The coroner had declared Moore's death a homicide, determining it was the result of the paramedics strapping him facedown on the gurney and causing him to suffocate through "positional asphyxia." With their training and experience, Finley and Cadigan knew that trapping Moore in a prone position would "create a substantial probability of great bodily harm or death," State's Attorney Dan Wright said Tuesday at a news conference.
They face 20 to 60 years in prison if convicted, he added.
D. Peter Wise, the attorney who represented both EMTs at a bond hearing on Tuesday, told The Washington Post that neither has a criminal history nor are they a danger to others.
"These are two good people that find themselves in a very odd criminal case," Wise said.
LifeStar CEO Roger Campbell declined to comment.
The series of events that led to Moore's death started in the early morning of Dec. 18 when he called 911, according to body-camera footage released by the prosecutors' office.
Three Springfield Police Department officers arrived at 2:05 a.m., the footage shows. A woman who answered the door told the officers she recently started renting the place and immediately said that, despite the information they may have received, no one in her house had guns.
A severe alcoholic who hadn't had a drink in four days, Moore was in the throes of withdrawal, she said. He was hallucinating – both seeing and hearing things that weren't there. But he wasn't violent, she said.
One of the officers asked if she thought he needed assistance.
"I think he needs help, yes," she said.
Three officers entered the house, walking through the living room and kitchen before entering a back room where Moore was lying on a bed. It was 2:07. As ambient music played, one of the officers tried engaging him in conversation without success. About 30 seconds later, the lead officer made the call to request an ambulance.
For the next 11 minutes, the officers waited. Although they kept trying to talk with Moore by asking him to identify the president of the United States or even just himself, they got little out of him, the body-camera footage shows. During that time, Moore rambled, moaned and eventually rolled off the bed.
Then, Finley entered the room.
"This is Earl," the lead officer told her. "Haven't been able to get much out of him."
Finley approached Moore and asked him his birth date. When he didn't respond, she started yelling orders at him.
"Earl, sit up," Finley said. "Sit up!"
She then dragged him several feet before repeatedly ordering him to sit up, the footage shows. When he didn't, she kept yelling.
"I am not playing with you tonight!" she hollered, before disengaging.
For the next several minutes, officers tried to coax him to stand and walk to the front of the house. When that failed, they pulled him up by his arms, supporting him as they led him through the kitchen, living room and out the front door.
Cadigan was waiting just off the front porch with a gurney. Officers helped Cadigan place Moore onto it. Noticing he was hanging off slightly, Cadigan lifted him up and dropped his limp body back down onto the gurney. Finley wrapped a blanket around Moore, and then both EMTs strapped him onto the gurney as he lay facedown. They wheeled him to the ambulance and, at 2:26, lifted him into the back.
Forty-eight minutes later, Moore was pronounced dead at the hospital.
Teresa Haley, president of the NAACP's Springfield chapter, compared Moore's death to that of George Floyd, who also died of positional asphyxia when Minneapolis police officer Derek Chauvin pressed his knees into Floyd's back for 9 1/2 minutes. Positional asphyxia occurs when the position of a person's body prevents them from breathing.
"It was almost worse," because the body-cam footage showed Moore struggling to breathe, she said, according to the Illinois Times.
"If this guy was already … having difficulties breathing, and then you put him on a stretcher facedown, I mean, it was hostile to see the video and how they treated him," Haley said. "They literally threw his hands behind and just strapped him down. He couldn't move if he wanted to."


[ad_2]

Source link
Related posts