Three concerning trends keep sprouting up during the Bruins' losing streak
Peter Tanner, 2 months ago
8 min

read
84
[ad_1]


Bruins
"I think adversity only makes you better. I truly believe that."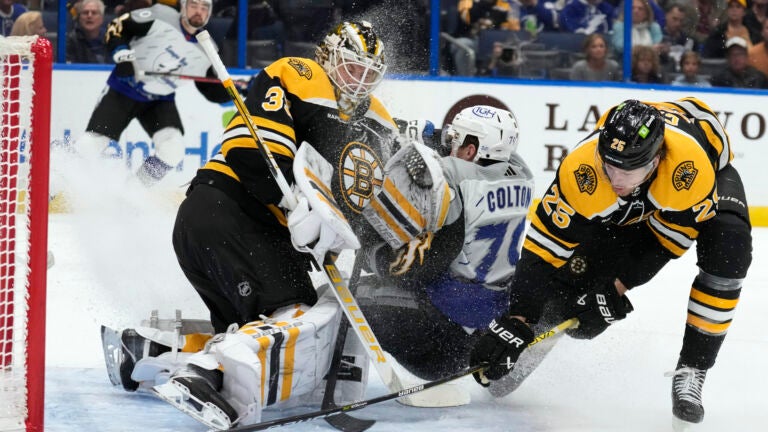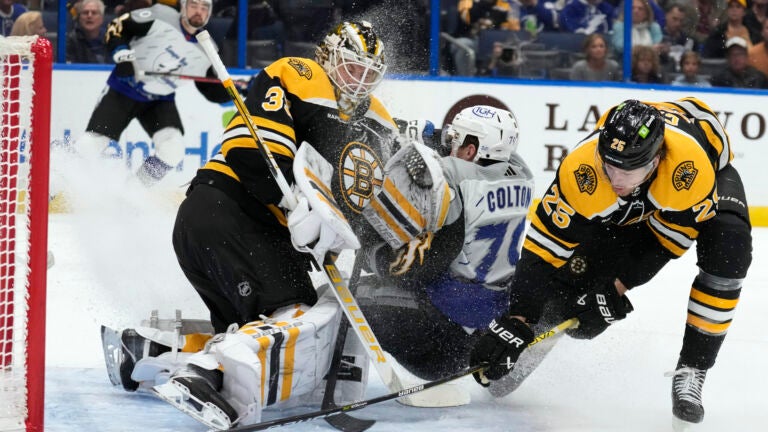 COMMENTARY 
The Boston Bruins are officially in a slump.
No, the end times are not upon us. A fire sale isn't imminent. Don't waste your time looking up Connor Bedard highlights. 
A three-game losing streak stands as a tough pill to swallow for any team, especially one operating at a record-setting pace like Boston.
But Jim Montgomery and his team aren't fretting over the recent lull, not when Boston's first consecutive losing skid came in the final week of January.
"We're ecstatic with what our record is and how well we've consistently played," Montgomery said Tuesday at Warrior Ice Arena. "Sometimes you get too immersed in the now and you tend to dwell on what's been happening. We're trying to recognize what we're doing wrong and correct it, so it doesn't become a prolonged funk.
"I think adversity only makes you better. I truly believe that. You fail in life, you get up, and you get stronger, and you get better. I think by the way we practiced today I was very encouraged by our group's mentality."
In a game that can be decided by a few fortuitous bounces, sideways results can be chalked up to poor puck luck or fatigue.
Boston's slump comes during a three-game stretch over four days, all on the road. The B's were just 1.4 seconds away from two points against the Panthers on Saturday before taking their foot off the gas. 
Still, for as much as Boston isn't dwelling on this recent slide, there are a few concerning trends that have sprouted up over the last few weeks.
A stagnant and stubborn power play
A potent man advantage has been a conduit of Boston's success for years now.
The 2022-23 squad is no different, with the usual suspects like David Pastrnak, Brad Marchand, and Patrice Bergeron capable of hewing even the sturdiest PK structures.
Boston still ranks sixth in the league in power-play success rate (25.3 percent). But the team is mired in an 0-for-12 drought over these last three games.
It'd be one thing if these failed 5v4 bids featured pucks ringing off posts or Grade-A chances turned aside by opposing netminders.
But the basic eye test has been downright ugly of late, with Boston struggling to even gain clean entries into the offensive zone.
A matchup against a PK grouping like Carolina further exacerbated Boston's ongoing woes. The Hurricanes' propensity to both stack the blue line and pressure puck carriers can frustrate many teams. Boston eventually settled for dump-and-chase tactics during Sunday's loss at PNC Arena. The results remained the same on an 0-for-6 showing for Boston's trusted scoring squad.
The absence of Jake DeBrusk on the power play has been felt over these last few games, especially with Montgomery struggling to find a suitable option at the netfront spot.
DeBrusk's straight-line speed comes in handy against stingy shorthanded units through the neutral zone. But the 26-year-old winger's ability to tip pucks down low, recover biscuits behind the net, and extend O-zone time has also been missed during many of these fruitless 5v4 bids.
DeBrusk — still on long-term injured reserve due to a reported fractured fibula and hand injury — won't be cleared for Wednesday's game against Toronto. But the top-six forward did skate on Tuesday and is in line to return in February.
"I'd be shocked if he doesn't play," Montgomery said Tuesday of DeBrusk's availability for Boston's first game back from the All-Star break (Feb. 11 vs. Capitals).
Boston has the personnel in place on its PP1 group to dissect defensive layers with ease. But in order to generate those chances, the Bruins' big guns up front need to both move the puck with authority and stop being so stubborn through the neutral zone.
"Faster with our plays," Bergeron said Sunday when asked about a solution for Boston's power play. "We're a little slow, especially in the neutral zone. And when we're doing it against a team like [Carolina], they're always gonna be in your face and you have no space. And credit to them. They play a good checking game.
"But that being said, I think once we started using our feet a little bit more, we're creating more in their zone a little bit more. And that's kind of how you have to play against them. But yeah the decision making was a little too slow."
A usually stout Lindholm-Carlo D pairing is getting dented
Montgomery hasn't had to spend much time fretting over the composition of his D corps this season.
The BU duo of Charlie McAvoy and Matt Grzelcyk has established a steady track record of puck-moving prowess and little time spent in their own end.
But the partnership of Hampus Lindholm and Brandon Carlo has been just as good during their regular reps together.
Before this current three-game stretch, Boston outscored opponents, 16-8, during the Lindholm-Carlo pairing's 346:52 of 5v5 ice time. Not too shabby for a defensive tandem that only saw 31.20 percent of their 5v5 faceoffs set in the offensive zone.
But the wheels have come off for Boston's second pair as of late. During Boston's three-game losing skid, the Lindholm-Carlo pairing logged 22:30 of 5v5 ice time.
In that 22:30, Boston was outscored, 4-0, and outshot, 21-10.
Carlo in particular has had a rough go of it, with a few turnovers and sluggish D-zone reads leading to pucks sailing past Linus Ullmark and Jeremy Swayman.
A stay-at-home blueliner like Brandon Carlo usually attracts his fair share of detractors. But the 25-year-old has been a key asset on the right side of Boston's D corps in 2022-23.
Along with averaging 3:10 of shorthanded ice time per game on the league's top penalty kill, Carlo's goals against per 60 minutes rate of 1.67 ranks 22nd among the 426 NHLers that have played at least 500 minutes of 5v5 action.
Perhaps this is just a blip on what has otherwise been a stellar partnership between Carlo and Lindholm. But Boston needs the two to right the ship in short order.
Losing the third period 
Finishing strong has been a trademark of the 2022-23 Bruins.
Before this recent jaunt down to Florida and North Carolina, Boston boasted an absurd +82 goal differential over the final 20 minutes of play.
The Bruins are anchored by veterans like a 37-year-old Bergeron and 36-year-old David Krejci. But Boston has buried plenty of teams this season by landing body shots against tired legs in the third period.
But in the last week, Boston has been the one finding itself on the ropes.
In the B's three losses to Tampa, Florida, and Carolina, they were outscored, 2-1, in the third period of each tilt.
"Yeah, very surprised, especially with them on the end of a back-to-back, I thought we were gonna be in shape in the third period," Montgomery said after Boston's late-game collapse against the Panthers on Saturday. "I thought we had an opportunity twice to get the puck out and we weren't able to. And then, I thought we got desperate, and we started sliding. We don't really encourage anyone to leave their feet in the D-zone because you do more on your feet than off your feet."
These late-game lapses might just be a sign of fatigue setting in. Some time away from the rink over the next week should alleviate those issues.
But before the Bruins go on break, they will try to reverse their fortunes on Wednesday night against the Maple Leafs.
"It's a great opportunity," Montgomery said of battling Toronto. "You want to go into the break on a high. Playing the team that's right behind us – a really, really good hockey team. We're gonna have a great test and try to get out of this little funk that we're in."
Sign up for Bruins updates🏒
Get breaking news and analysis delivered to your inbox during hockey season.


[ad_2]

Source link
Related posts