Spencer the Marathon Dog honored with portrait as new cancer diagnosis revealed
Peter Tanner, 3 months ago
5 min

read
50
[ad_1]


Boston Marathon
"The energy from all of you has helped him conquer many challenges with dignity to still be with us," his family wrote on social media.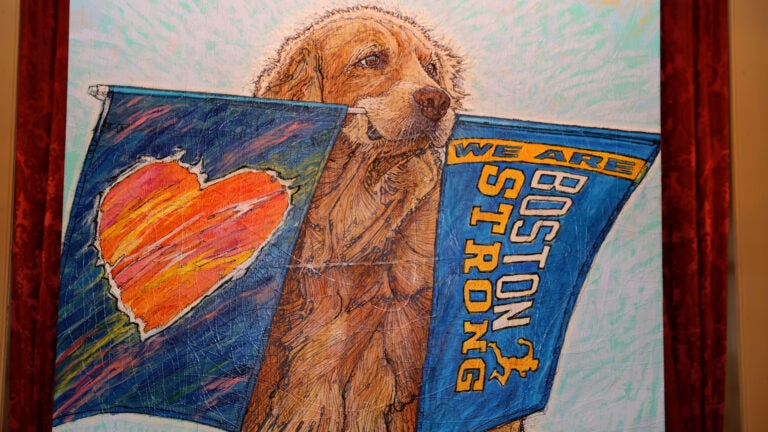 The Boston Marathon's favorite canine and beloved local celebrity, Spencer the golden retriever, was honored with a giant portrait and his very own race medal at the Fairmont Copley Plaza this week.
The therapy dog has been a fixture along the race day route, known for proudly holding flags in his mouth in support of runners, which artist Tom Mosser captured in the commissioned portrait unveiled Wednesday.
Last year, the Boston Athletic Association named Spencer its official Boston Marathon dog and gave him his very own bib.
On Wednesday, the BAA gifted him a unicorn race medal, and the Fairmont Copley named him an honorary "Canine Ambassador," the hotel revealed on Instagram.
The honors were bestowed upon Spencer ahead of the 127th Boston Marathon in April "because, at 13.5 years old, Spencer is sadly approaching his own finish line with untreatable liver cancer," the Fairmont Copley wrote.
Spencer's family learned this past fall that he has "an aggressive inoperable mass in his liver," owner Rich Powers shared on social media this week.
"He's happy, comfortable and (living) life as he always has and we are monitoring him closely To ensure the highest quality of life," the family posted on a Facebook page dedicated to Spencer and his sister Penny.
"We are devastated to learn (our) time with this amazing boy is limited but we will never give up hope," the family wrote. "Thank you To all of you for love and positive vibes for our boy. The energy from all of you has helped him conquer many challenges with dignity to still be with us."
Spencer has previously overcome serious health issues including terminal spleen cancer.
Mosser's painting, "Celebrating Spencer," was commissioned by Powers, after the family learned of his latest diagnosis in the fall, The Boston Globe reported. The portrait will reside at the family's home.
The public can purchase their own paper and canvas prints of the painting on Mosser's website and help raise money for Morris Animal Foundation's Golden Retriever Lifetime Study.
"Spencer's iconic pose is a playful one but it's also an image of inspiration and perseverance. It's a perfect image for the Boston Marathon and Boston Strong. I'm so happy to be a small part of the Spencer phenomenon," Mosser wrote on his website.
The painting, which features acrylic ink on canvas, took the artist just over a month to complete, the Fairmont Copley noted in its post.
"The sight of Spencer's ears blowing in the wind as he held the marathon banners so firmly on that cold and rainy day is so iconic," Mosser said, according to the hotel. "I've run five marathons so I especially loved seeing the smiles of the runners each year as they saw him. It was such a pleasure creating the piece to celebrate Spencer and the Boston Marathon."
See below for more photos and videos of the painting:
Newsletter Signup
Stay up to date on all the latest news from Boston.com


[ad_2]

Source link
Related posts