Some districts, experts are recommending masking as school resumes to prevent COVID-19 spread
Peter Tanner, 3 months ago
6 min

read
31
[ad_1]


COVID
"Masking on a short-term basis with high-quality masks is an extremely effective way to keep kids healthy and in school."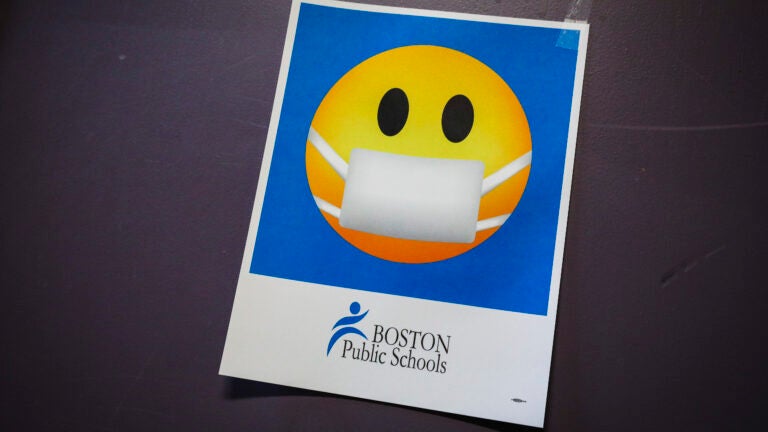 At least three local school districts in the Boston area want students to wear masks as they return to class following the holiday break to prevent the spread of COVID-19. 
Boston Public Schools on Friday announced that students and staff are being asked to wear masks for a total of eight days — between Jan. 4 and Jan. 13 — to mitigate the spread of coronavirus and other viral illnesses. The district said that disposable masks will be provided to students and staff, but no one will be disciplined or sent home if they refuse to wear the face coverings. 
"We understand that the COVID-19 pandemic has been a challenging time for everyone," Superintendent Mary Skipper wrote to families. "While we are all eager to return to a sense of normalcy, we need to take necessary precautions to ensure that the new year starts in a strong and productive way for our schools."
Also on Friday, Arlington Public Schools issued a "strong recommendation" that all students, staff, and visitors in school buildings wear masks from Jan. 3 to Jan. 13. The district also asked families to test for COVID-19 before returning to school on Tuesday.
The recommendation is not being made lightly, Superintendent Elizabeth Homan said in a message to families, noting that as the year came to a close that the district had high levels of absences among student and staff due to illness. 
"In an effort to protect in-person learning and strong service delivery, we feel it is important to issue this recommendation and ask for your participation," she wrote. "If your child needs a mask, APS can provide one. In addition to this recommendation, we will be using additional mitigation strategies where possible over the next few weeks to reduce the spread of viruses."
Newton Public Schools is taking a similar approach, announcing Monday that officials are recommending students and staff wear masks for the first two weeks of school, Boston 25 News reports. 
During the last week of December, data from the Massachusetts Water Resources Authority showed that COVID-19 RNA in Boston area wastewater reached up to levels not seen since January 2022. 
Jon Levy, a professor of environmental health at the Boston University School of Public Health, said that with wastewater levels the highest they've been since mid-January, the expectation should be that there is going to be "a lot of COVID and other respiratory illnesses in the weeks ahead."
"Masking on a short-term basis with high-quality masks is an extremely effective way to keep kids healthy and in school," he said. "There is a much greater risk of learning loss from missing school than from wearing a mask for a couple of weeks."
Masking is also the recommendation from Boston Public Health Commissioner Dr. Bisola Ojikutu, who in recent weeks has urged the public to wear face coverings indoors and on public transportation, noting that both COVD-19 and the flu are causing "significant strain" on area hospitals. 
Dr. Shira Doron, an infectious disease physician and Hospital Epidemiologist at Tufts Medical Center, said that thanks to immunity "ideally obtained through vaccination before infection" COVID-19 is now similar to the other respiratory viruses seen each year that tend to increase in the winter. 
So the public can expect to see waves of COVID-19 cases "forever going forward," she said.
But in the near-term, between the levels of the virus in Boston area wastewater and the proportion of infections caused by the new subvariant, XBB, being high in the region, the Tufts physician said there may be a rise in infections in the coming weeks.
"We no longer need to take extraordinary measures to avoid catching viruses unless we are very high risk, though anyone can try to if they so choose," Doron said. "That's why I believe in personal choice when it comes to masking, and I think it's far more effective when people protect themselves with a high quality, well-fitting mask than when they mistakenly believe that others are protecting them with their reluctantly worn poorer quality masks."
The doctor said that she and her family choose not to mask at school or in other public places. 
"We trust our vaccines and prior infection to protect us from severe disease and feel that getting COVID (again) is inevitable," she said. "However, we wash our hands often, prioritize exercise, good nutrition and sleep for our underlying health, stay away from sick people, and stay home when sick."
Newsletter Signup
Stay up to date on all the latest news from Boston.com


[ad_2]

Source link
Related posts