Matt Damon melts down on Jimmy Kimmel 20th anniversary episode
Peter Tanner, 2 months ago
3 min

read
24
[ad_1]


Celebs
"What the f***? Twenty f****** years of this s***. "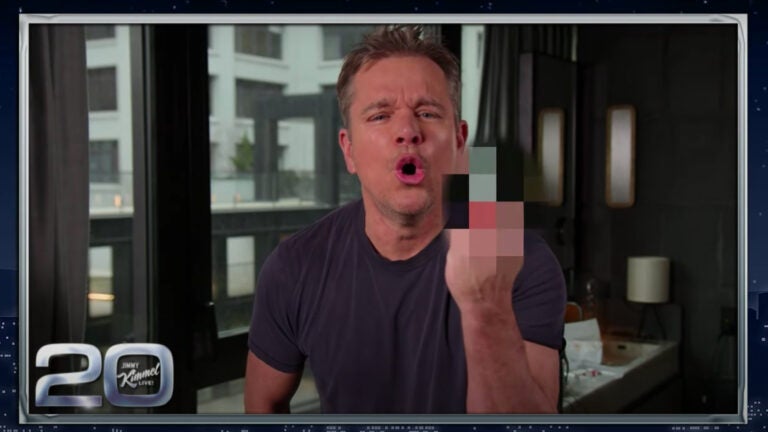 While many things have changed during the 20 years that "Jimmy Kimmel Live!" has been on the air, Matt Damon's "feud" with the late-night host isn't one of them.
Kimmel ended a special 20th anniversary episode of "Jimmy Kimmel Live!" on Thursday with yet another snubbing of his frenemy Damon, leading the Cambridge native to trash a green room and a cake with Kimmel's face on it.
"I want to apologize to Matt Damon," Kimmel said. "We ran out of time for him, but we'll definitely try to work him in sometime in the next 20 years."
"What the actual f***?," Damon yelled, before tearing down a banner and smashing a vase and champagne bottle. "What the f***? Twenty f****** years of this s***. This is f****** bull****. F*** Kimmel."
Before Damon's backstage meltdown, Kimmel played a video montage of celebrity friends wishing the host well. Along with Michelle Obama, Julia Louis-Dreyfus, Shaquille O'Neal, Carol Burnett, and Oprah Winfrey, a few actors with local ties showed up in the video tribute as well.
First, Newton native John Krasinski (alongside wife Emily Blunt) played dumb, pretending he thought the tribute was for Kimmel's 20th birthday. Then came the a tribute from Ben Affleck.
"Jimmy you are nothing if not an enormous talent — and to this day, my only friend who's written an entire song about f****** me," Affleck said.
Finally, the montage ended with Damon. After starting the clip congratulating "Tonight Show" host Jimmy Fallon, Damon's tone changed when someone offstage said the video was for Kimmel.
"It's for Jimmy Kimmel?" Damon said. "Nah. F*** that guy. F*** him. F****** piece of s***. Boo. Boooo! Booooooo!"
Need weekend plans?
The best things to do around the city, delivered to your inbox.


[ad_2]

Source link
Related posts