Jayson Tatum seems to support a Kemba Walker reunion for the Celtics
Peter Tanner, 5 months ago
5 min

read
56
[ad_1]


Celtics
The Mavericks released Walker on Friday.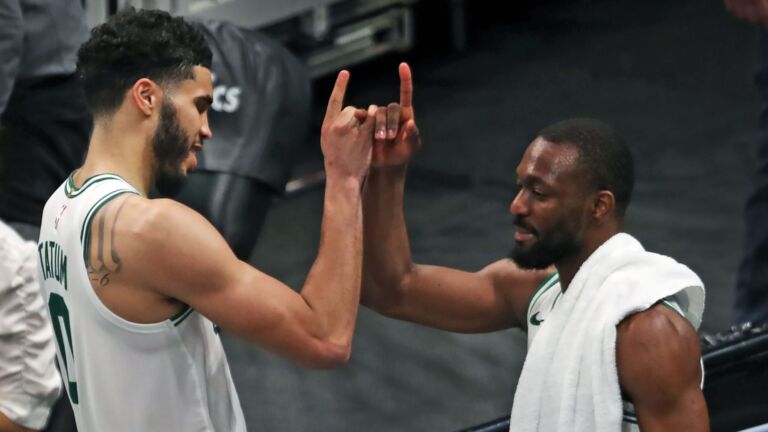 Jayson Tatum appeared to signal that he wants a former Celtics teammate of his to come back to Boston.
The Dallas Mavericks released Kemba Walker on Friday, the day before his veteran minimum salary would've been guaranteed. When the news was shared on Twitter, Tatum responded to it in an interesting way.
"👀☘️☘️," Tatum tweeted.
The Celtics actually faced Walker's now-old team on Thursday, beating them 124-95. Walker scored two points on one made shot during two minutes of action. Following the game, Tatum spoke highly of Walker.
"Kemba is a special, special person," Tatum told reporters. "Somebody I talk to on the regular. Without a doubt, one of the best teammates, if not the best teammate, I've probably ever had. The best, happiest guy. Always got a smile on his face. I really value the two years that we spent together. We locked in for life after that."
Boston could add Walker without having to make room. The Celtics traded Noah Vonleh to the Spurs without receiving a player back in return on Thursday, giving them an open roster spot.
A couple of things stand in the way of Walker potentially returning, though. The first is that point guard is their deepest position. Marcus Smart, Malcolm Brogdon, and Derrick White all handle the position for the Celtics on a nightly basis. They're so deep at the position that a player like Payton Pritchard, who averaged seven points and two assists per game while shooting above 40 percent from 3-point range over the last two seasons, fails to crack the regular rotation.
Walker's play has also taken a step back in recent seasons as he's dealt with a knee injury that's caused him to miss time since his first season with the Celtics in 2019-20. He played 37 games for the Knicks last season, scoring 11.6 points and dishing out 3.5 assists per game. However, he lost his starting role because he was a defensive liability and by February, the two sides agreed for him not to play for the rest of the season.
The Knicks ultimately traded Walker in the offseason to help clear up cap space, moving him to the Pistons, who ultimately waived him.
After being a free agent to open the season, Walker signed a one-year, non-guaranteed deal with the Mavericks on Nov. 28. Walker had a couple solid offensive outings in his first two games in Dallas, averaging seven points and 3.5 assists in roughly 16 minutes per game. In his first start though, he showed signs of his former self. Walker scored 32 points and dished out seven assists in a one-point loss for the Mavericks against the Cavaliers on Dec. 17.
That was Walker's lone start with the Mavericks and following a 14-point outing in their next game, he either didn't play or score more than four points in the Mavericks' following eight games.
Signing Walker could be some sort of insurance for the Celtics as Brodgon's dealt with injuries that's cost him to miss 77 games over the last three seasons. As indicated by Tatum's tweet, he certainly has fans in Boston still, potentially making him a good locker room presence.
Walker was also a leader on a Celtics team that made the Eastern Conference finals during the bubble in 2020. He revealed in November what he told Tatum and Jaylen Brown about how to handle adversity before his departure in 2021.
"I remember me telling those guys, because they've always seen the talks and everybody saying they can't play with each other, I always told them just block that out. I always told them, this organization isn't going nowhere without you two, literally," Walker told ESPN's Adrian Wojnarowski on "The Woj Pod." "My main thing to those guys was that they have to love each other. Jayson and Jaylen, you two guys have to come together as much as you can and lead this team to the promised land. They can't go anywhere without those two guys."
Sign up for Celtics updates🏀
Get breaking news and analysis delivered to your inbox during basketball season.


[ad_2]

Source link
Related posts