Jaylen Brown won't start the All-Star game, but he's an obvious reserve
Peter Tanner, 2 months ago
7 min

read
31
[ad_1]


Celtics
Brown's case is imperfect but rock solid. His progress is obvious.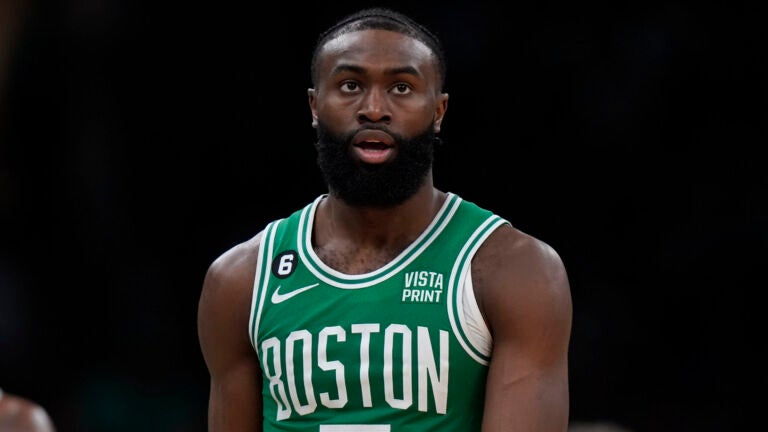 On Friday, the NBA announced that Kyrie Irving — and not Celtics wing Jaylen Brown — will occupy the second guard slot in the starting lineup of the Eastern Conference All-Star team this year. Irving joins his teammate Kevin Durant as well as Donovan Mitchell, Jayson Tatum, and Giannis Antetokounmpo in the starting lineup.
Irving's case over Brown is reasonable. The Nets star is averaging 27.2 points, 5.2 rebounds, and 5.1 assists per game, and he's only had one weird and concerning incident this season which feels like progress for him. 
Irving's lineups have outscored opponents by 5.0 points per 100 possessions, and his lineups without Kevin Durant on the floor are still outscoring opponents by 3.7 points/100. Interestingly, the defensive numbers have been solid as well. Whether that's a product of improvement by Irving or good coaching by Jacque Vaughn is unclear, but in either case, Irving has been a net positive with good stats all season. That's well worth an All-Star selection. 
While Brown is a no-questions-asked All-Star, his resume is a little more difficult to evaluate and requires both a 10,000-foot view look, as well a deep dive. 
From 10,000 feet, Brown has been excellent — at 26.8 points per game, he's seventh in the Eastern Conference, scoring more than the likes of DeMar DeRozan, Pascal Siakam, and Julius Randle. Like Irving, Brown is doing more as a secondary option than a number of primary options on reasonably solid teams. Maybe more to the point, Brown is half of the NBA's highest-scoring duo. The Celtics have built an entire team around the concept that Tatum and Brown, paired with players who accentuate their strengths, can win a title. So far this season, the Celtics have the NBA's best record and the NBA's best net rating. Not bad!
Zoom in a little, and you can start to see some of the more questionable parts of Brown's resume. His 3-point shot has dipped to a career-low 33.1 percent. Per Cleaning the Glass, Brown's turnover percentage ranks in the 38th percentile league-wide, and his turnover percentage with his usage factored in is in the 25th percentile. He's a little too likely to shuffle his feet and travel when he starts to drive, or to move a little too much and commit an offensive foul when he sets a screen. The Celtics would like to see him be more consistent when teams blitz his pick-and-rolls. While his free throws have improved significantly, Thursday's loss to the Knicks was an uncomfortable reminder that he isn't always reliable on that front (which isn't what you want from a player who ranks in the 97th percentile for usage among wings).
Brown's on/off numbers leave quite a bit to be desired as well — while his lineups outscore opponents by 4.0 points per 100 possessions (and 1.9 points per 100 possessions when Tatum is off the floor), his lineups significantly underperform the Celtics' team average for net rating. 
But the 10,000-foot view is probably best for evaluating Brown. He's in the 60th percentile among isolation scorers, and he's in the 86th percentile among pick-and-roll ball-handlers. He isn't always the most reliable off-ball defender, but he's been better this season, and he has shouldered the load against some of the Celtics' tougher opponents. While Brown doesn't have the impeccable case someone like Jayson Tatum presents, there's a chicken-and-egg element to the evaluation: How would his numbers look if he were entrusted with all of Tatum's responsibilities? The turnovers and assists suggest he would struggle as a playmaker, but he is also capable of putting up somewhere between 25 and 40 points on any given night, even with Tatum eating up a lot of possessions. How much more would Brown average on his own?
Of course, that last question is purely academic, because Brown isn't playing on his own.
"I think we're both individually playing at a higher level at this time of the year compared to last year," Tatum said earlier this season, when asked why he and Brown have had so much success so far. "The team is playing at a higher level. So we're just better as a team than we were last year at this time."
In a nutshell, that's the best case for Brown as an All-Star. The Celtics see him as a foundational piece of their roster — someone they aren't really interested in dealing to acquire Kawhi Leonard or Kevin Durant or Damian Lillard or James Harden or any other superstar. On this date last season, they were 25-25. Even after dropping three in a row, this year's iteration of the team is 35-15. 
For his part, Brown told reporters he isn't disappointed that he isn't starting the All-Star game. 
"Obviously, it's an honor to represent your organization, your family, and the people who have supported you through the highs and the lows like moments like these," Brown said, offering perhaps the most generic collection of words possible. "So to be able to participate and stuff like that, it's really for that community, and that's really all I have to say about it."
Of course, the pain of not getting selected as a starter is presumably assuaged since Brown knows he's headed to Salt Lake City for his second All-Star appearance as a reserve. His status speaks to his progress, both individually and as part of a team that has real championship aspirations.
Last year, Brown was a long-shot candidate. This season, he's a no-brainer.
Sign up for Celtics updates🏀
Get breaking news and analysis delivered to your inbox during basketball season.


[ad_2]

Source link
Related posts