Jane Fonda says Tom Brady made her knees weak in '80 for Brady'
Peter Tanner, 5 months ago
4 min

read
53
[ad_1]


Celebs
"My knees actually got weak when he walked into my trailer."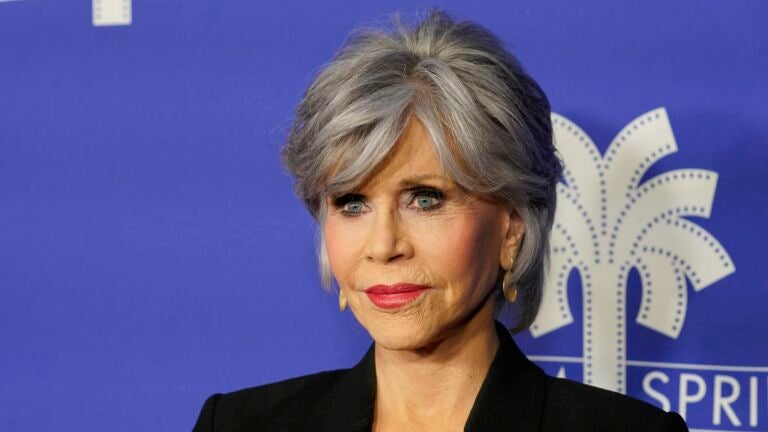 With football left to be played this season, Tom Brady wasn't able to make it to the world premiere of his upcoming film, "80 for Brady." But the former Patriots gunslinger still left an impression, especially on his co-stars.
Inspired by a true story, Paramount's upcoming comedy tells the story of four longtime Brady fans — played by Lily Tomlin, Jane Fonda, Rita Moreno, and Sally Field — who road-trip to Super Bowl LI in the hopes of watching Brady take down the Atlanta Falcons.
Fonda told The Hollywood Reporter that she was "completely starstruck" working with Brady on the film, which hits theaters Feb. 3.
"He was kind and humble, which is hard to believe considering how brilliant he is at what he does, but it's true. He was also sweet and polite," Fonda told the magazine. "My knees actually got weak when he walked into my trailer. I'm in awe of that kind of skill. When somebody is the best in the world at what they do, you have to honor that and respect it. I was just awestruck."
Tomlin, meanwhile, complimented Brady's acting skills, calling him "personable and unassuming" while filming a scene together for the movie.
"Just looking at his face and his eyes and watching him listen to me as an actor trying to reciprocate in the same way, I felt like I was that [real-life] woman from Boston who was in her 80s," Tomlin said. "I felt, in fact, as though he was my son when I had to do this speech with him."
Along with Fonda, Field, Tomlin, and Moreno, "80 for Brady" also features cameo appearances from restaurateur Guy Fieri, actor Billy Porter ("Pose"), and three of Brady's former teammates — Rob Gronkowski, Julian Edelman, and Danny Amendola.
"We've been part of a lot of battles together," Brady told Variety regarding casting his former teammates. "We've never been on a movie set together, but it felt like we were back in the locker room when we were there. Anytime I get my friends involved in things that I'm doing, it makes it that much more enjoyable for me."
Watch the trailer for "80 for Brady" below.
Newsletter Signup
Stay up to date on all the latest news from Boston.com


[ad_2]

Source link
Related posts