It's on to the Winter Classic
Peter Tanner, 5 months ago
8 min

read
41
[ad_1]


Bruins
Here's what we learned as the Bruins turn their attention to Fenway for their Winter Classic preparations.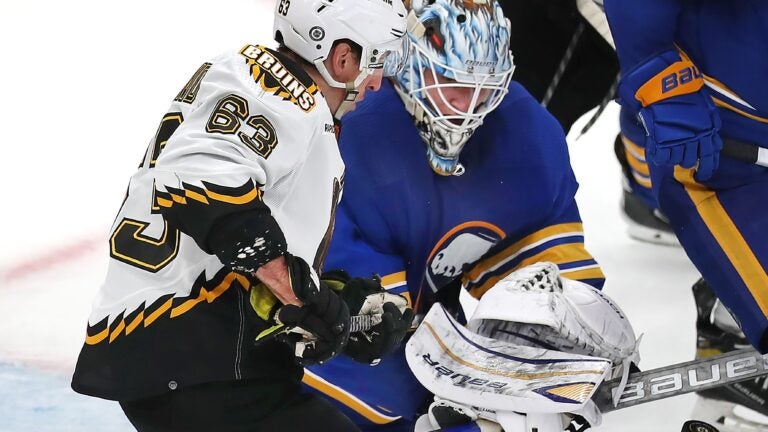 Jim Montgomery hardly had to remind his team to maintain their focus Saturday's matinee against the Buffalo Sabres, Boston's final tilt before its Winter Classic matchup against the Pittsburgh Penguins at Fenway.
The first-year Bruins bench boss didn't have that luxury while coaching the University of Denver in the pre-outdoor game events before its 2016 contest with rival Colorado College at Coors Field. He hardly had to multitask between preparations for the B's final contest against an improved Sabres bunch and the distractions surrounding NHL's marquee regular season event.
"Usually, I'd be very concerned about that," Montgomery said, "but not with this group. They're very professional."
The Bruins' professional nature doesn't allow them to look past any opponent. But Saturday's 4-3 overtime loss to an improved Sabres squad had a stinging effect.
Facing a 2-1 deficit, Brad Marchand and Patrice Bergeron connected in the third period to even things up on a Boston power play.
Marchand gave the Bruins the lead at 12:25 of the final frame, notching his first goal since Dec. 15 with his breakaway marker.
The Bruins had a golden opportunity to add insurance late in regulation with J.J. Peterka (a double-minor) and Ilya Lyubushkin committing a pair of high-sticking infractions a mere four seconds apart. They failed to convert on the four-minute sequence that also included a full two minutes of 5-on-3 time.
The Sabres pounced, tying the game at 3-3 with 1:37 remaining in regulation. After beating out an icing call, Rasmus Dahlin found Dylan Cozens at the faceoff circle, who promptly fired a relatively routine shot past Jeremy Swayman for the equalizer.
Cozens factored into the overtime winner following his stick-check on Bergeron in the attacking end. The Sabres quickly transitioned up ice into Boston's defensive zone, where former Boston College standout Alex Tuch capped off the 3-on-3 extra session.
Here's what we learned as the Bruins turn their attention to Fenway for their Winter Classic preparations.
These Sabres aren't cellar dwellers.
Hockey pundits projected another dark era in Buffalo once the Sabres traded Jack Eichel to Vegas. In reality, they're ahead of schedule.
Buffalo, winners of six in a row, sit six points behind the Penguins and Rangers in the East's wild card picture. They're no longer a pushover for the rest of the league, possessing a crop of young and talented stars like Cozens, Tuch, and Dahlin.
Amid Buffalo's emerging talent, Tage Thompson's rise to superstardom provides the Sabres with a superstar to build around. The former UConn standout provided the Sabres with a pivotal first-period marker shortly after David Pastrnak blasted his 52nd goal of the 2022 calendar year.
"He's a real dynamic player who's extremely confident," Montgomery said of Thompson. "Very gifted skater, very gifted with the puck, and his shot is one of the best shots in the league."
The opportunistic Sabres gave the Bruins a run in both meetings. They'll meet twice more in March during the final playoff push.
Remaining in the postseason picture would only solidify Buffalo's rise. But even if they fall out of the playoff race this season, the Sabres continue to inch closer to mid-April play and further away from needing ping-pong luck in the Draft lottery.
Montgomery wishes he'd called his timeout earlier.
The Bruins fired five shots on goal during their 5-on-3 chance. Yet, their movement wasn't as crisp, allowing the Sabres multiple opportunities to move the puck out of danger.
With a bit of time remaining on the second half of Peterka's double-minor, Montgomery called a timeout hoping to regroup. In hindsight, he wishes he had used his timeout earlier.
"I just wanted to get organized," Montgomery said. "But I should've called the timeout when the 5-on-3 happened. We haven't had one in a while, and we were very disorganized. Our puck movement and our spacing was not the way we would like it to be, and I got to take responsibility for not calling timeout there at the end."
Bergeron notched a power-play marker earlier in the third at his bumper spot. But that's been one of the few bright spots on the man advantage recently.
The Bruins only have one power play marker in their last 12 attempts. They've had little to no practice time to work on their recent woes since returning from their holiday break. Sunday will mark just the second on-ice training session since play resumed on Dec. 27.
In front of family, friends, and media, the Bruins will have an opportunity to work on their power play cobwebs at "America's Most Beloved Ballpark." They'll have a tough task ahead of them, however, against Pittsburgh's third-ranked penalty kill."
"Disappointing finish. We had that game. We had our hands all around it, and we kind of squandered it with a couple of PP's late," Marchand said. "That's kind of on us. We should have been much better in that situation. But we're not going to dwell on it. We got a point, and we got a great opportunity ahead of us."
The Bruins can finally focus on Fenway.
The media hype surrounding another outdoor game at Fenway reached peak levels since the NHL installed their ice surface. And now, the Bruins can fully embrace the pomp and circumstance surrounding the league's marquee regular season event.
The Bruins didn't shy away from discussing the game-ending breakdowns and letting a point slip away from them on home ice. But despite Saturday's disappointing result, Montgomery, Pastrnak, Bergeron, and Marchand didn't hesitate to answer questions regarding the next 48 hours.
"We could've ended it a couple of times," Pastrnak said. "Tough luck, but we still feel good as a team. Obviously, we're in a good spot, so we'll keep working. We've got everyone coming … everyone has their families in town. So, hopefully, we'll have a nice time."
The Bruins face a Penguins bunch who hope to snap their four-game skid. The B's earned a thrilling come-from-behind win in their first meeting of the season back on Nov. 1 with Hampus Lindholm scoring the overtime winner.
While the Pens encountered recent struggles closing out games, the Bruins will hardly want to spot Pittsburgh with a lead for the second time this year in front of a nationally televised audience. But that storyline is a mere footnote amid another highly-anticipated outdoor matchup.
"We'll put this away pretty quick and start focusing on the great event that's coming," Montgomery said. "The Winter Classic is the Super Bowl of hockey in the regular season. It's a great time. It's a great event, and it's a special event at Fenway. So I think our minds are going to get there pretty quick because we're pretty excited about the Winter Classic."
Newsletter Signup
Stay up to date on all the latest news from Boston.com


[ad_2]

Source link
Related posts