[ad_1]


Politics
"Despite a myriad of political fights and distractions that were raging all around us, people here chose to focus on the work and it paid off."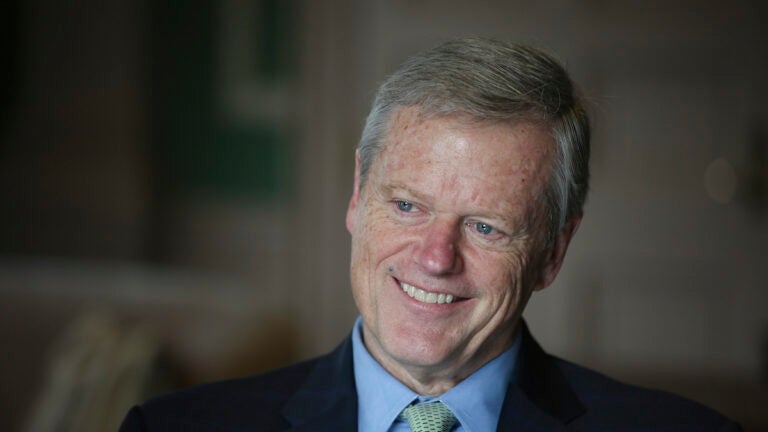 Gov. Charlie Baker was always going to have to find a way to work together with Democrats.
That's a given for any Republican who wants to be successful in Massachusetts.
But still, the national backdrop of Baker's eight years in the corner office was quite the contrast to bipartisanship, as the country moved from the Obama era into the Trump presidency and partisan divisions fumed.
And although he was outnumbered by Democrats here, Baker was still able to find common ground, especially amid the challenges of the COVID-19 pandemic.
"This is a very special place," Baker said, in a "thank you" speech Tuesday to the commonwealth, as he prepares to leave office Thursday and make way for incoming Gov.-elect Maura Healey.
In his tenure, Baker personally visited over 250 of the 351 cities and towns that make up Massachusetts. Lt. Gov. Karyn Polito visited all of them.
"Both of us were amazed by the creativity, decency, and shared sense of purpose that we saw everywhere we went," Baker said.
"Despite a myriad of political fights and distractions that were raging all around us, people here chose to focus on the work and it paid off," he added.
Indeed, it seems Baker's leadership style of bipartisanship and teamwork is something the governor from Swampscott holds as dear as any one of his accomplishments since he became the state's chief executive in 2015.
His appreciative recap of his "sometimes crazy" years in office was full with pride on matters like reversing the state's budget deficit into a surplus and bringing broadband access to remote parts of Western Massachusetts.
But so too was Baker's pride in how his team got it done.
"We did it all without partisan bickering," said Baker, the oft-designated most popular governor in the country.
His tenacity for sidestepping party politics to focus on the business of governing is also, apparently, what got him his next gig as the incoming president of the NCAA.
Beginning in March, the by-then-former governor will become the next president of the NCAA — a job he landed in large part because of his political problem-solving abilities amid multiple unique and substantial legal and political challenges the association is facing.
In the meantime, here are some other highlights of Baker's farewell address:
On his accomplishments
Baker made mention of several policies and programs his administration took on in the past two terms during his six-minute address from the State House.
He boasted about turning around an inherited nearly $1 billion budget deficit in 2015 into a $5 billion surplus, along with the ability for a $3 billion give-back to taxpayers and $7 billion invested in the state's rainy day fund.
Baker also highlighted his administration's work to expand internet access to allow for more remote work and school opportunities, to take on infrastructure projects "long promised but never done," and to deliver a substantial housing reform bill, setting up Housing Choice in the Bay State.
On the COVID-19 pandemic
Baker said state officials and residents worked together especially during the COVID pandemic.
"When food pantries got stretched thin local leaders adapted, recruited new volunteers, partnered with the National Guard, and delivered for their communities," Baker said. "Across the state, you manned testing sites and vaccine clinics and helped us find medical gear, made major adjustments to the way you worked and the way you played, checked in on your neighbors, and supported first responders (and) health care and other frontline workers."
Baker said he also knew not everybody was thrilled with the decisions he made during that time.
"I know that many of you didn't agree with all of the decisions the lieutenant governor and I made during the pandemic, (but) you tried your very best to abide by the rules and to share in the work to be done," Baker said.
The governor feels it was worth it.
"I believe that's why we've recovered almost all the jobs we lost during the pandemic, why we have an unemployment rate that's below the national average, and why the nationally renowned Commonwealth Fund concluded that we did a better job of managing the pandemic than every other state except Hawaii," he said.
On the people of Massachusetts
Tuesday's remarks were, as Baker said, what his late mother would have considered "a proper goodbye."
"This one comes with mixed emotions," he said.
And with that, the governor offered some hearty appreciation to his constituents.
For after all, when he and Polito leave the State House on Wednesday, "We will do so with love and appreciation for what you the people of Massachusetts have shown us from day one — your kindness and generosity were always on display," he said.
Baker spoke glowingly of the "thousands of gatherings, fundraisers, and celebrations on behalf of all kinds of good causes" he attended over the years.
"My staff used to give me a hard time when I would say yes to attending two or three or four of these events on a weeknight or a weekend, arguing that it would wear me out," he admitted. "I thought just the opposite. It was like fuel for me. Watching people do good things to benefit others gave me joy. No one cares what party someone belongs to at these events. It's all just about people helping one another."
Baker said he witnessed that "personal and professional generosity, from the Berkshires to Cape Cod and every place in between."
And yet there is one event that stands out to Baker above the others, he said.
In early 2021, hundreds of Massachusetts National Guard members were deployed to the U.S. Capitol — with Baker's approval — to provide security for the presidential inauguration, just two weeks after the deadly insurrection on Jan. 6.
Baker visited them in Washington, D.C.
"Four hundred fifty citizen soldiers, ages 18 to 58, from every corner of Massachusetts, from every race and religion, all there to do the same job for the same reason: To serve their commonwealth and their country, no matter when the call comes," Baker said. "That visit for me is the embodiment of the commitment and generosity of the people of Massachusetts. It is our fervent hope that your generosity never wavers. It is truly what makes you special, and it's the foundation on which we can continue to build great communities and a great commonwealth.
"We are deeply grateful for the gifts you've given us over these past eight years," he continued. "And I want you to know that you will be sorely missed by the two of us and by our teams. God bless you."
Newsletter Signup
Stay up to date on all the latest news from Boston.com


[ad_2]

Source link
Related posts