[ad_1]


Politics
Healey and Driscoll will make five stops in different regions of the state.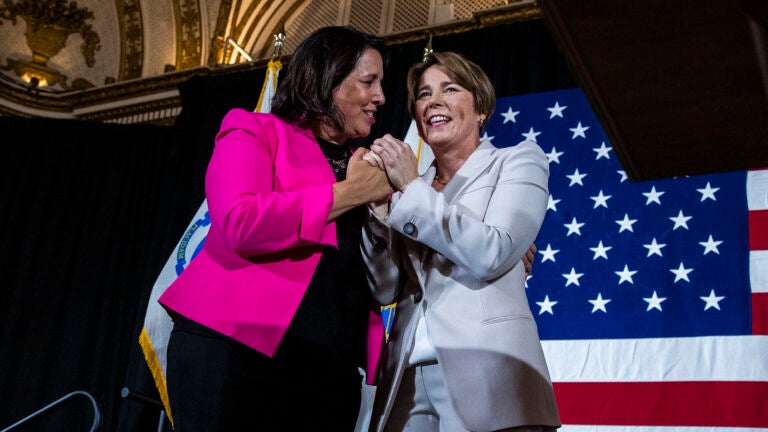 If you're hoping to meet with our state's new governor before she takes office, you'll have a quick opportunity in the new year as she travels to each region of Massachusetts before her inauguration.
Governor-elect Maura Healey and Lieutenant Governor-elect Kim Driscoll will be taking a tour of Massachusetts to hold some community service events, making five stops in different communities before their inauguration on Jan. 5.
The Healey-Driscoll team is calling the tour "Team Up Massachusetts," and said it is meant to "highlight the Healey-Driscoll Administration's priority of making Massachusetts more affordable and delivering for families struggling to get by."
Healey and Driscoll plan to start in western Massachusetts with a holiday gift giveaway in honor of Three Kings Day at New North Citizens' Council Youth Center in Springfield. The event, at 4 Birnie Ave., will take place Monday, Jan. 2 at noon.
Later that day, Healey and Driscoll will head to central Massachusetts to host a coat and food drive with the Worcester County Food Bank and Partner Agency El Buen Samaritano Food Program. The event will start at 2:30 p.m. at 39 Piedmont St. in Worcester.
The tour will continue Tuesday, Jan. 3 in Taunton with a school supplies and healthy food giveaway at the Boys & Girls Clubs of Metro South's Taunton Clubhouse. The event at 31 Court St. will begin at 12:30 p.m.
Later that afternoon, Healey and Driscoll will travel further south to Cape Cod to distribute healthy prepared meals and produce with Family Table Collaborative. The event will begin at 3 p.m. at 1338 MA-28 in South Yarmouth.
The tour will finish with a stop at Lowell High School on Jan. 4. Healey and Driscoll will host a "family support drive" at 50 Father Morissette Blvd. in Lowell at 3 p.m.
More details about the events will be announced in the coming weeks, according to the Healey-Driscoll team, and will be posted on their inauguration website.
Calendar
Monday, January 2
Western Massachusetts Regional Stop
What: Holiday gift giveaway in honor of Three Kings Day at New North Citizens' Council Youth Center
Who: Maura Healey, Kim Driscoll
Where: 4 Birnie Avenue Springfield MA 01107
When: Monday, January 2, 2023 at 12 pm
Central Massachusetts Regional Stop
What: Coat and Food Drive with the Worcester County Food Bank and Partner Agency El Buen Samaritano Food Program
Who: Maura Healey, Kim Driscoll
Where: 39 Piedmont St. Worcester, MA 01610
When: Monday, January 2, 2023 at 2:30 pm
Tuesday, January 3
Southeastern Massachusetts Regional Stop
What: School supplies and healthy food giveaway at Boys & Girls Clubs of Metro South's Taunton Clubhouse
Who: Maura Healey, Kim Driscoll
Where: 31 Court St, Taunton, MA 02780
When: Tuesday, January 3, 2023 at 12:30 pm
Cape Cod Regional Stop
What: Healthy prepared meal and produce distribution with Family Table Collaborative 
Who: Maura Healey, Kim Driscoll
Where: 1338 MA-28, South Yarmouth, MA 02664
When: Tuesday, January 3, 2023 at 3:00 pm
Wednesday, January 4
Merrimack Valley Regional Stop
What: Family support drive at Lowell High School
Who: Maura Healey, Kim Driscoll
Where: 50 Father Morissette Blvd, Lowell, MA 01852
When: Wednesday, January 4, 2023 at 3pm
Newsletter Signup
Stay up to date on all the latest news from Boston.com


[ad_2]

Source link
Related posts