Free school lunches could become a permanent fixture in Massachusetts
Peter Tanner, 2 months ago
4 min

read
26
[ad_1]


Schools
"We have heard time and again from educators, advocates, and parents, that kids cannot learn when they are hungry."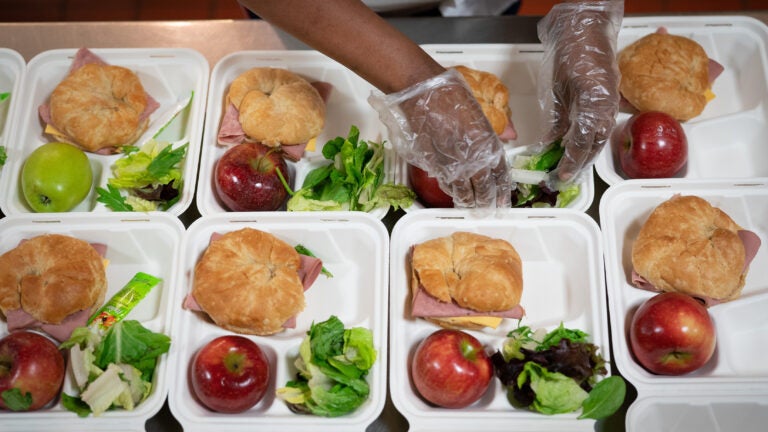 There's a renewed push in the State House to ensure that all Massachusetts students can eat for free at school, regardless of their household income. 
Last summer, state lawmakers allocated $110 million toward extending a pandemic-era federal free school lunch program. But with that extension set to expire later this year, advocates are looking to make universal school meals a permanent fixture. 
Legislation filed by Rep. Andy Vargas of Haverhill and Sen. Sal DiDomenico of Everett would make breakfast and lunch available to each public school student in Massachusetts at no charge. The pair introduced similar proposals in the last legislative session. 
"We have heard time and again from educators, advocates, and parents, that kids cannot learn when they are hungry," DiDomenico said in a statement provided to Boston.com. "Providing free breakfast and lunch in schools will empower all our students to study, focus, and live up to their full potential." 
California, Maine, and Colorado have all passed universal school meal policies.
"As a part of the promise of public education, we don't means test for textbooks or nurses visits, but we do for meals," Vargas wrote on Twitter, calling for Massachusetts to recognize school meals as an essential part of the learning environment. 
The bills — SD.1013 in the Senate and HD.766 in the House — encourage schools to maximize access to federal funds by adopting the Community Eligibility Provision, which allows high-poverty schools and districts to provide breakfast and lunch to all students without collecting household applications. 
Under the proposed legislation, the state Department of Elementary and Secondary Education would fill in the gaps for any costs not covered by federal funds. 
According to anti-hunger organization Project Bread, nearly a quarter of the 121,560 Massachusetts children who faced food insecurity pre-pandemic were ineligible for free or reduced-price school meals. 
Over the past few years, universal school meals have lowered those barriers. Project Bread estimates that on average, 56,665 more children participated in daily school lunches in October 2022 compared to October 2019, possibly saving families up to $1,200 per student per year. 
Just partway through the school year, a recent School Nutrition Association survey found that schools nationwide are seeing an uptick in unpaid meal charges after the federal universal meals program ended in June. Students had already accrued $19.2 million in unpaid meal debt.
"It is past time, in the year 2023, that we finally pass my commonsense bill into law and ensure no child will ever go hungry in a Massachusetts school again," DiDomenico said.
Newsletter Signup
Stay up to date on all the latest news from Boston.com


[ad_2]

Source link
Related posts