Celtics looking to manage Jayson Tatum's wrist soreness
Peter Tanner, 5 months ago
4 min

read
44
[ad_1]


Celtics
Tatum admitted a week ago that there's "a lot of [expletive] going on" with his left hand and wrist, though he joked he'd fight with Brad Stevens about having to miss games.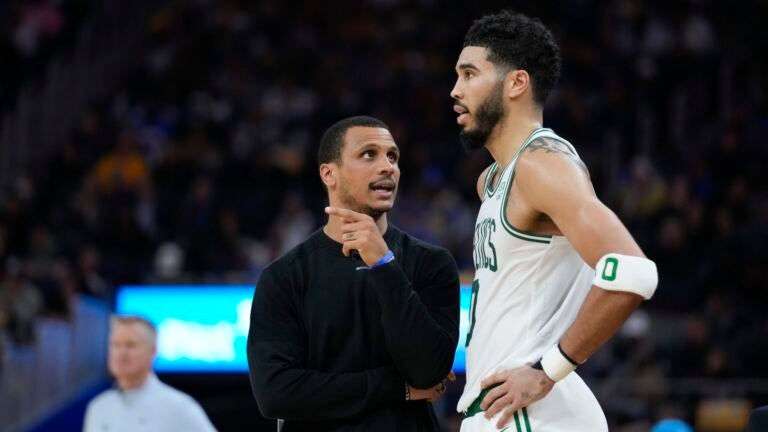 Jayson Tatum is getting a day off on Saturday.
The Celtics star won't play in their matchup against the Raptors due to left wrist soreness. It also comes two days after Tatum played every minute from the beginning of the second quarter to the final buzzer in the Celtics' overtime win over the Warriors.
Celtics interim coach Joe Mazzulla said that Tatum's day off on Saturday is just about "managing" his wrist.
Tatum has been pretty steadfast in his desire to play despite the wrist soreness and the high usage (he's played 44 of the Celtics' first 46 games, playing the fourth-most minutes in the league this season). Following Thursday's game, Tatum said that Mazzulla asked him a few minutes into the fourth quarter if he wanted a break, saying that anytime he's asked if he wants to be taken out of the game he's going to say no.
Mazzulla also has a good idea that his team's leading scorer isn't going to want to check out of games.
"I mean, you ask the question to generate a conversation and you kind of take it from there," Mazzulla said prior to Saturday's game. "It's more of a dialogue and making sure we're on the same page, seeing how he's feeling.
"Even though I asked the question I wasn't going to take him out – he didn't know that."
Mazzulla didn't regret playing Tatum for as long as he did, playing him for 48 of the 53 possible minutes.
"I thought his effort didn't wane," Mazzulla said. "I thought he was giving us really good energy without [a break], so I went with that instinct."
This is the second time in less than 10 days that the question on how to manage Tatum's minutes has popped up. Following the Celtics' win over the Nets on Jan. 12, Tatum said that he has "a lot of [expletive] going on" with his left hand and wrist but he doesn't want to have to miss game time for it.
"That's something me and [Celtics president of basketball operations] Brad [Stevens] will fight about," Tatum joked.
Tatum is viewed as one of the frontrunners for MVP this season, scoring 31.2 points per game (third-most in the league) while adding a career-high 8.5 rebounds per game and 4.3 assists per game. Tatum's play has propelled Boston to have the best record in the league. At 34-12, the Celtics are 4.5 games ahead of the Bucks for the top spot in the Eastern Conference entering Saturday's games.
Sign up for Celtics updates🏀
Get breaking news and analysis delivered to your inbox during basketball season.


[ad_2]

Source link
Related posts