Book Club's next read is 'Small World' by Laura Zigman
Peter Tanner, 2 months ago
5 min

read
28
[ad_1]


Book Club
Join the live author discussion with The Silver Unicorn Bookstore's Megan Birch-McMichael, on Feb. 22 at 6 p.m.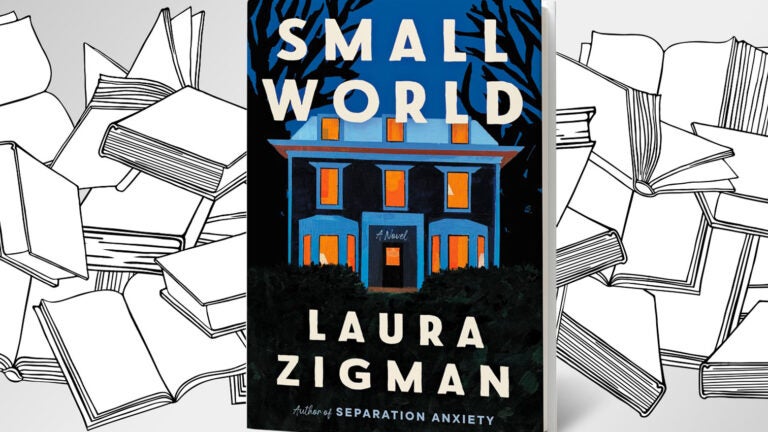 For our February selection, Laura Zigman's "Small World," we turn our eyes to an apartment in Cambridge. Zigman's sixth novel is perhaps her most personal, and also perhaps her best. It tells the story of two sisters who move in together (in an apartment in Cambridge) in middle age following their divorces, and the close proximity forces them to reckon with their childhood. Specifically, their other sister who was disabled and died when they were still kids.
"Small World" has been met with considerable praise from fellow novelists such as Tom Perrotta, Chris Bohjalian, Mona Awad, and Shelby Van Pelt, as well as media outlets like The Washington Post, Publishers Weekly (which gave it a starred review), The Boston Globe, and many more. The Washington Post said that the novel is "as poignant as it is funny, as thought-provoking as it is witty and searingly relatable." Perrotta, the author of "Election," and most recently, "Track Flick Can't Win," called it "wryly funny and sharply observed," as well as a novel that is written, "with unusual grace and sensitivity." And in its review, The Boston Globe said that "Zigman's ability to elicit the transformative magic that happens when people find a true connection with others makes these pages glow."
That review was not the only time this month that Zigman has appeared in the Globe's pages, as she was the subject of a long profile written by Globe writer Beth Teitell. The article is wide-ranging and covers everything from her agent telling her to stop writing fiction to her childhood. Zigman also shares details about her life as a ghostwriter, her lucky $6 blouse, and much more. It's worth a read for sure. 
Like other pieces that discuss the book, the Globe article touches on the fact that a lot of the material in "Small World" is pulled from real life. Zigman really is one of three sisters, one of whom was disabled and died at the tender age of seven. In addition to this, Zigman lost both of her parents to cancer and has battled cancer herself. Professionally, she also ended up taking a long break from being a novelist after her star dimmed in the years after she published the bestselling "Animal Husbandry." That ended with 2020's "Separation Anxiety," which was recently optioned for television by the team responsible for "Mare of Easttown."
While the pandemic canceled a lot of the publication date hype for "Separation Anxiety," before publication was a different story. It was in the lead-up to that book that Zigman was joined at a bookseller dinner by Megan Birch-McMichael from The Silver Unicorn Bookstore in Acton, Mass. Since then, the pair have kept in regular contact. Zigman has offered guidance and encouragement to Birch-McMichael, who is also a writer.
In addition to her work shepherding The Silver Unicorn — where she is now the general manager — and stacking up bylines in The Boston Globe, Washington Post, and New York Times (among others), Birch-McMichael is also on the Select Board in Stow (she's the board's chairperson this year). In her spare time, she's also working on her debut novel. And that doesn't come close to encompassing all that Birch-McMichael does. She has been a foster parent, has done work with immigration groups, and volunteers weekly at her town's food pantry. A lot of people talk a good game about trying to make a positive impact in their community; Birch-McMichael actually does.
Her bookstore — and in full transparency, mine as well — has gained a foothold in Acton and the surrounding communities by trying to do the same. Founded roughly a year after the closure of the town's former bookstore, Willow Books, The Silver Unicorn is fast approaching its fifth anniversary and has succeeded by focusing on the three C's – convenience, curation, and community. The store runs more than a dozen elementary school book fairs each year and has hosted several bestselling authors, including Gregory Maguire, Karen M. McManus, and Jane Yolen. The store completed a small expansion in late 2021, and this year will host its first festival — a Kids Graphic Novel Festival.
Join Laura and Megan on Wednesday, February 22nd, as they discuss Laura's marvelous new novel!
Buy "Small World" from: Bookshop  |  The Silver Unicorn Bookstore

---
Prior Boston.com Book Club picks:


[ad_2]

Source link
Related posts