Birds of Paradise, a cocktail bar in Brighton, has officially opened
Peter Tanner, 4 months ago
5 min

read
31
[ad_1]


Food
The Charles River Speedway spot offers a colorful escape.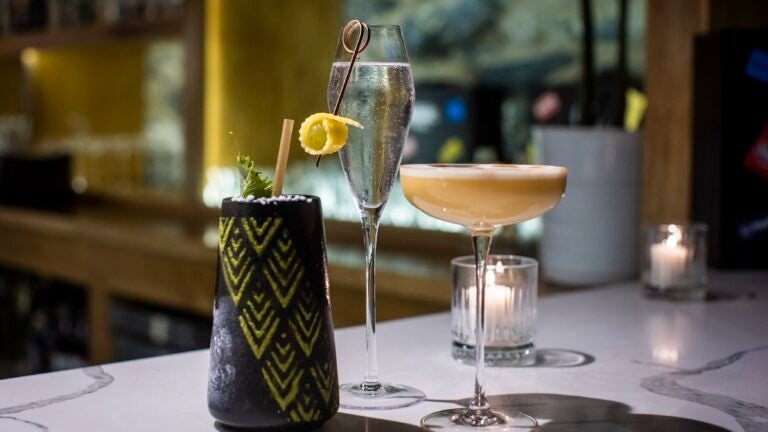 If you're looking to jet across the globe, there's a new cocktail bar to help you get to your destination.
Inspired by "the golden age of travel," Birds of Paradise opened at the Charles River Speedway in Brighton on Dec. 16. The spot is the latest venture from owner Ran Duan and his team, the forces behind Baldwin Bar in Woburn, Blossom Bar in Brookline, and Ivory Pearl, also in Brookline. The drink menu is inspired by plane tickets and destinations, featuring ingredients that evoke different locations around the world. Director of bar operations Will Isaza said that the concept behind the lounge is escapism, with its name symbolizing a kind of fantasy airline.
"It was more about taking people to a place that felt normal again, or pre-pandemic, where there were no travel restrictions," Isaza said. "You could go wherever you wanted at any time."
One side of the cocktail menu is meant to represent boarding passes, with drinks like the Rio to Tokyo, which reflects the two cultures by mixing together Leblon Cachaça, miso pineapple, wasabi coconut, and other ingredients. The Bangkok to Mumbai is another flight pattern that makes for an "alluring combination," featuring jackfruit and yellow Chartreuse. On a second menu, drinks will be influenced by a specific destination, currently Guadalajara. Each year, the team will aspire to take an actual trip that will serve as the inspiration behind a set of cocktails.
"We were thinking about ideas, how to make the travel aspect real instead of just a concept," Isaza said. "Our goal, moving forward, is we'll pick a destination every year … travel to it, and bring something back with us." From a recent trip to Mexico, Duan and team member James Sutter brought back a barrel of El Tesoro tequila, used in the Pare de Sufrir.
Birds of Paradise also offers some menu items for snacking. Temaki, or hand-rolled sushi, are filled with ingredients like fresh salmon, seared Hokkaido scallop, and Maine uni. The bar's current specials are pork and chicken gyozas and shrimp shumai. In the future, a boba tea machine will allow guests to have their cocktails sealed and enjoyed with a straw.
The space is meant to look like an airline lounge, said Isaza. Birds of Paradise occupies a building that used to be a police barrack, and the underground level where the bar resides is where holding cells were located, but you wouldn't know it from the design. Seating in the space, which features a bar, blue banquettes, and marble tables, accommodates approximately 45 guests. Art Deco touches throughout the space gesture towards an earlier time.
For the team, this is their first cocktail bar that is not attached to a restaurant. Isaza said that he hopes Birds of Paradise's opening will help bring new life to the beverage world.
"In theory, we're part of a new resurgence in cocktail bars," he said. "Boston became a springboard for people to go to other big cities, to move on and do something great. … We want to be part of the force that does the opposite, where it brings people from those cities to Boston."
Birds of Paradise, 525 Western Ave. #12, Brighton, open daily, 5 p.m. – 1 a.m.
Stay up-to-date on the Cocktail Club
Catch up on the latest virtual classes, recipes, and tips from local bartenders in your inbox.


[ad_2]

Source link
Related posts