Baker signs new law protecting 'vulnerable' road users
Peter Tanner, 3 months ago
5 min

read
37
[ad_1]


Politics
Pedestrians, cyclists, and others now have greater protections built into Massachusetts law.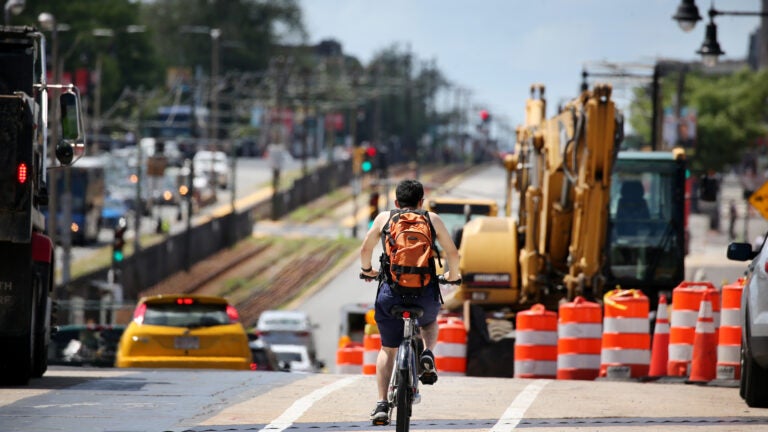 Just a short time before his final day in office, Gov. Charlie Baker signed a new law aimed at making roads safer for those not using cars. 
The bill, known as H.5103, was signed into law by Baker on Monday, according to the state's website. The heart of the bill centers on defining what makes a "vulnerable" road user, and setting certain protections for them as they travel alongside motorists. 
One of these protections is that drivers are now required to leave at least four feet between their vehicles and vulnerable users, including pedestrians, as they pass. 
Pedestrians, including those repairing utility facilities and emergency workers, are included in the definition of vulnerable users. People operating bicycles, skateboards, rollers skates, wheelchairs, and motorized scooters, among other devices, are also considered vulnerable users. This includes those riding horses, driving horse-drawn carriages, and those driving farm vehicles like tractors. 
Until this point, Massachusetts law only considered cyclists in this context, Sen. William Brownsberger wrote on his website. He is one of the co-authors of the bill. Existing law also did not include a specific minimum passing distance. 
The four-foot passing distance requirement was not in the initial version of the bill. When it hit Baker's desk in September, the bill included a sliding mechanism. This dictated that drivers must pass vulnerable road users at a distance of at least three feet when traveling 30 miles per hour or less, with one additional foot of clearance for every 10 miles per hour that the vehicle is traveling above 30 miles per hour. 
Baker instead proposed a set three-foot passing requirement, and lawmakers then landed on a set four-foot passing requirement. Brownsberger called this change an "improvement" on his website. 
The bill also requires that cyclists use rear-facing red lights at night. 
While these requirements will likely not be routinely enforced by police, Brownsberger said that the new laws will still produce positive results. 
"Agreed that the broader regulatory aspects of this bill — safe passing distance and red lights — will rarely if ever be enforced by police. But safe passing will become part of standard drivers education and red lights will get sold more consistently by bike stores. Some positive change will result," he wrote in a response to a comment on his website in September. 
This legislation requires that large trucks purchased or leased by the state use devices designed to protect vulnerable users. This includes devices that make it easier for drivers to see other people on the roadway like backup cameras and extra mirrors. It also includes lateral protective devices, which are installed between the front and rear wheels to help prevent people from falling underneath large vehicles. These will prevent some of the "most tragic accidents," Brownsberger wrote. 
Another notable aspect of the bill is that it creates a framework for municipalities to ask the state to modify speed limits on state-controlled roads within their borders.
Brownsberger said on his website that the bill represents the culmination of more than a decade of work. Still, he said, more efforts need to be made to improve traffic safety, such as the implementation of automated speed limit enforcement.
Newsletter Signup
Stay up to date on all the latest news from Boston.com


[ad_2]

Source link
Related posts