An ex-Patriot is the latest to regret asking Tom Brady about his future
Peter Tanner, 2 months ago
4 min

read
23
[ad_1]


Patriots
"Now I'm trying to think back, like what did I say bad?"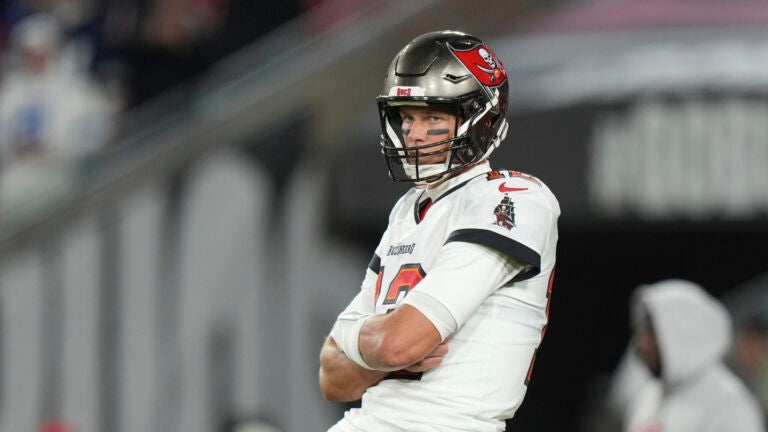 It might be time to stop asking Tom Brady about his playing career.
The legendary quarterback has yet to announce whether or not he will return for a 24th season, and he hasn't exactly been receptive to queries relating to his looming decision.
Add ex-Patriots teammate Rob Ninkovich to the growing list of individuals now in Brady's doghouse.
The former linebacker, who played alongside Brady from 2009-16 in Foxborough, discussed the former Patriots QB last week during a radio spot on ESPN's "Keyshawn, JWill and Max".
When asked if he had any inside scoop on Brady's plans in 2023, Ninkovich revealed that his former teammate didn't give him much in their latest text exchange.
"I don't know, I've been trying to investigate that… I've been trying to get some info out of that and I'm not getting anywhere with it," the current ESPN analyst said of his intel about Brady's plans. "And then, you know, I tried to be nice.
"Just hit up a friend and be like, 'Hey, man, great season. Hope you're recovering. You finished well. You still got it,' and he responds, 'Not according to your hard-hitting analysis.'"
The Tampa Bay Buccaneers were marred by offensive woes throughout the 2022 season. But Brady still put together an impressive season, ranking third in the NFL in passing yards (4,694) while tossing 25 touchdowns.
"I was trying to be nice!" Ninkovich added " … Now I'm trying to think back, like what did I say bad?"
Last week, Jim Gray received a far sharper reaction from Brady when he asked about his future.
"Jim, if I knew what I was going to f—ing do, I'd have already f—ing done it, ok? I'm taking it a day at a time," Brady said during his weekly appearance on the "Let's Go!" SiriusXM podcast.
"I sense you're antagonized by the question," Gray responded.
"You're scratching," Brady said.
"It's only the question that everybody wants to hear," Gray countered.
"You're scratching," Brady added. "I appreciate you asking. Thank you."
If Brady opts to not hang up his cleats, he should have no shortage of options across the NFL.
One team reportedly out of the running for Brady's services is the Miami Dolphins, who violated the NFL's anti-tampering policy three times between 2019 and 2022 due to dialogue with the signal caller. 
ESPN's Adam Schefter reported that the Dolphins are "pleased with [Tua Tagovailoa's] development" and will keep him in place at quarterback in 2023, even with his concussion issues. 
Even with the Dolphins out of the picture, teams like the Raiders and Titans are all expected to vie for Brady's services if he hits free agency.
Tampa Bay stands as the betting favorite to retain him in 2023, per DraftKings Sportsbook.
But last week, NFL Network's Ian Rapoport reported that several Buccaneers players feel that Brady will leave Tampa Bay this offseason based "on their final interactions" with him. 
Newsletter Signup
Stay up to date on all the latest news from Boston.com


[ad_2]

Source link
Related posts