9 possible candidates for the Patriots' offensive coordinator vacancy
Peter Tanner, 4 months ago
9 min

read
44
[ad_1]


Patriots
There are some candidates with prior ties and some who could offer a fresh insight.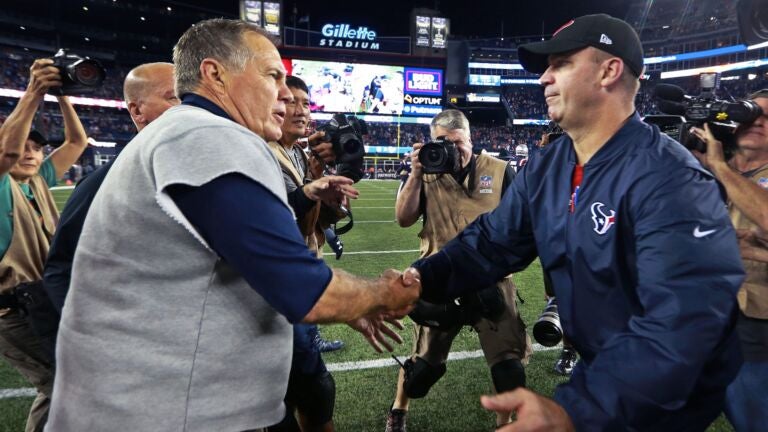 The Patriots are hiring an offensive coordinator after the team struggled mightily on that side of the ball in 2022.
We obviously don't know who that will be yet as they just announced on Thursday that they're going to begin to conduct interviews next week. But we already have some sense as to who might be a prime candidate for the job and who else might end up being a possible suitor in the role.
Here are nine possible candidates for the Patriots' offensive coordinator vacancy.
The usual suspects
Bill O'Brien
The former Patriots offensive coordinator has been linked to take back his old job since Josh McDaniels left a year ago. New England's offensive ineptitude certainly didn't quit down the buzz on O'Brien, who had three successful seasons calling plays for the Patriots' offense before helping mold Deshaun Watson into a franchise quarterback with the Texans.
O'Brien, an Andover native, seems to be the favorite for the job. An "influential" person within the Patriots' organization wants him for the role, NFL Network's Mike Giardi reported Friday. This comes after weeks of multiple reports indicating that O'Brien had a strong chance to return to New England.
O'Brien's most recent stop was at Alabama, helping the Crimson Tide win the SEC in 2021 before going 11-2 in 2022 with a Sugar Bowl win. His contract at Alabama reportedly expired following the Sugar Bowl.
Kliff Kingsbury
The other outside candidate drawing the most buzz so far is the former Arizona Cardinals coach.
Kingsbury has been viewed as an offensive whiz ever since his early days as a college coach. The University of Houston set offensive records when he was on their coaching staff from 2008-11. He was viewed as one of the best assistants in college football when Johnny Manziel won the Heisman Trophy during Kingsbury's lone season as the offensive coordinator at Texas A&M. Kingsbury continued to coach some highly-ranked offenses when he became the head coach at Texas Tech too, coaching a young Patrick Mahomes before he became an NFL MVP.
Some of Kingsbury's offensive success carried over into the NFL. His Cardinals teams were top 10 in total offense in the 2020 and 2021 seasons before injuries and suspensions helped derail the unit in 2022.
The Patriots did some background work on Kingsbury, Sports Illustrated's Albert Breer reported earlier this week. There's also some familiarity with him as they drafted him in 2003 when he was a quarterback.
However, he might not be interested in coaching this season. Kingsbury bought a one-way ticket to Thailand and has told teams inquiring him to help fill their vacant offensive coordinator that he's not interested at the moment, FOX Sports' Peter Schrager reported.
Nick Caley
The Patriots' tight ends coach is the most likely in-house candidate to get the offensive coordinator job.
Caley, who turns 40 later in January, is one of the few offensive coaches that remained in New England in 2022 after Josh McDaniels took much of the offensive coaching staff with him when he became the Raiders head coach.
Caley's been in the Patriots' organization since 2015, where he began as an offensive assistant before moving into the role he has now. He reportedly was the head man for game planning the Patriots' run game this season, which saw Rhamondre Stevenson rush for 1,040 yards but ranked 21st in yards per carry (4.3).
There has been some outside interest though in Caley, whose contract reportedly expired at season's end. The Jets have him as a candidate for their offensive coordinator vacancy, NFL Network's Ian Rapoport reported Friday, and it's been speculated that he could follow Eagles defensive coordinator Jonathan Gannon if he becomes a head coach.
Other former head coaches
Adam Gase
The former Dolphins and Jets coach has never worked directly with Bill Belichick, but there are some loose ties.
Gase coached under Josh McDaniels when the latter was the head coach in Denver, working as the wide receivers coach then.
In terms of his relationship with Belichick, Gase seems to have a good one with the Patriots. In fact, he actually called Belichick and Matt Patricia two of the funniest people he's ever been around as he recalled that he formed a bond with the Patriots coach after the Dolphins fired him in 2018.
Belichick spoke glowingly of Gase in 2020, when he was still working as the Jets head coach.
"I know [Sam Darnold's] getting good coaching, and has a good system that works through the quarterback," Belichick said. "Adam's always had an offensive system that's really given quarterbacks all the tools they need to be successful.
"I don't think you could have anybody better coaching [Darnold] than where he's at. He's progressing as you'd expect he would."
Gase has been out of the league since the Jets fired him following the 2020 season. He's currently the offensive coordinator for Lincoln High School in his hometown of Ypsilanti, Michigan.
Frank Reich
Belichick certainly seems to have a respect for the former Colts coach, who was the offensive coordinator for the Eagles in their Super Bowl LII win over them. Prior to the Patriots' matchup against the Colts in November, Belichick said Reich's "play calling and scheme" are good and prior to the 2021 matchup, he complimented Reich's system and its ability to create explosive plays.
There isn't a prior connection between the two though. But Reich proved to be a top offensive mind when he helped the Eagles win the Super Bowl in 2017, bringing the most out of Carson Wentz and later, Nick Foles.
Up-and-comers and other assistants
Zac Robinson
There aren't many offensive coaches with previous ties to New England around the league that might view the offensive coordinator job as a promotion. Robinson is one of the few.
The Rams passing game coordinator and quarterbacks coach was selected by the Patriots in the seventh round of the 2010 NFL Draft but only spent training camp and the preseason of that year in New England.
After bouncing around as a player for a few years, Robinson found a home in Los Angeles in 2019, being hired as a replacement for Zac Taylor when he left to become the Bengals head coach.
Robinson's worked under one of the league's best coaches too in Sean McVay, who called Robinson a "rising star" and said he's "got such great ownership of the quarterback position."
Chad O'Shea
O'Shea's one of the few assistants in the league that spent a considerable amount of time in New England. He was the Patriots' wide receivers coach from 2009-18 before following Brian Flores to the Dolphins, becoming the offensive coordinator there.
O'Shea lasted as an offensive coordinator in Miami for one season, though.
"O'Shea tried to teach an offense that was too complex for a young team," the Miami Herald of O'Shea's struggles wrote at the time. "That teaching/instruction during film study was a 'disaster.'"
O'Shea's worked in Cleveland the last three seasons as the Browns' wide receivers coach and passing game coordinator.
Mike Groh
Groh has some family ties to the Patriots. His younger brother, Matt, is the Patriots' director of player personnel and his father, Al, has worked with Belichick in the past.
But Groh also has a considerable amount of coaching experience, too. He's currently in his first season as the Giants' wide receivers coach, working under former Patriots offensive assistant Brian Daboll. He was also the Eagles' offensive coordinator for two seasons, but was fired after the 2019 season.
Maybe his role in helping the Giants surprisingly reach the playoffs could get him a promotion somewhere.
Outside the box candidate
Charlie Weis Jr.
Another candidate who has family ties to the Patriots.
The son of longtime Patriots offensive coordinator Charlie Weis has moved up the college ranks quickly. Weis Jr., 29, finished his first season at Ole Miss as its offensive coordinator in 2022. He helped the Rebels have a top-10 offense in the nation following the departure of star quarterback Matt Corral.
Prior to that, he worked as an offensive coordinator and quarterbacks coach at Florida Atlanta and Southern Florida over four seasons. He was also an offensive assistant under Nick Saban at Alabama for a couple seasons and was an offensive assistant for the Falcons in 2017.
Betting on such a young coach would certainly be a bold move, but he gained the respect of Lane Kiffin when he first hired him to be the offensive coordinator at Florida Atlantic in 2018.
"He's way ahead of his time in how he sees the game, his football IQ and just his overall intelligence," Kiffin said then. "He's been around the game with his dad being a coach, a lot like I was when I was growing up, and has a bright future."
Sign up for Patriots updates🏈
Get breaking news and analysis delivered to your inbox during football season.


[ad_2]

Source link
Related posts