7 takeaways from Celtics win over Raptors, as bench steps up
Peter Tanner, 2 months ago
8 min

read
25
[ad_1]


Celtics
Payton Pritchard and Grant Williams were big for a short-handed Celtics team that claimed its ninth straight win.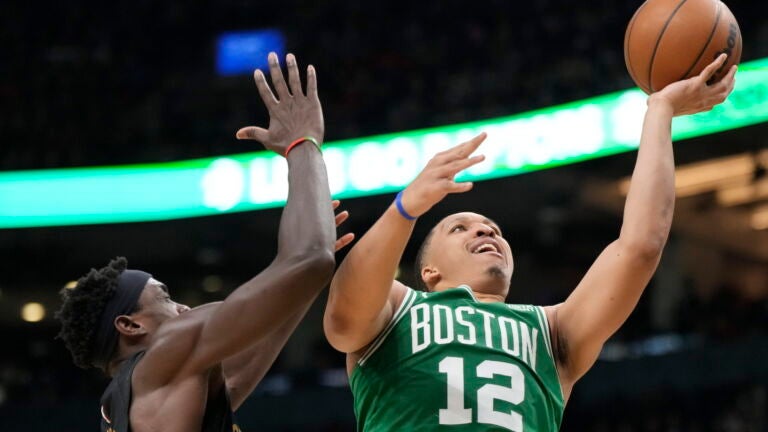 The Celtics beat the Raptors 106-104 on Saturday, claiming their ninth straight win despite a rash of injuries that included Jayson Tatum.
Here are the takeaways.
1. Through no fault of his own, Payton Pritchard has largely been out of the rotation this season. It's an occupational hazard of being a young player on a contender that is fully focused on winning a lot right now, since the Celtics looked to shore up their depth by acquiring the likes of Derrick White and Malcolm Brogdon during the last calendar year.
But as Pritchard improves, his resume as a future NBA role player continues to build. Every once in a while, the Celtics find themselves without several players, and Pritchard has now taken advantage of an opportunity multiple times this season.
That's what happened on Saturday, when Pritchard exploded in the fourth quarter — scoring all 12 of his points on four triples in the final 12 minutes. His third 3-pointer gave the Celtics an eight-point lead with 5:32 remaining. His fourth reclaimed a lead the Celtics had frittered away with 1:30 left (and ultimately proved to be the final field goal of the game).
We will see if Pritchard is on the roster after the trade deadline, since he might have real value if the Celtics look to improve. But in the interim, he has shown a proclivity for showing up when the Celtics really need him to do so. On Saturday, his ability to come off the bench gunning helped the Celtics keep a lengthy winning streak alive, and with a back-to-back looming (and a lineup turned to Swiss cheese by injuries), he might be called on again in the near future.
2. If Pritchard's fourth quarter was the big story during the game, the big story postgame was the injury situation.
Fortunately for the Celtics, Marcus Smart, Robert Williams, and Derrick White all seem to have side-stepped major issues despite spending the final minutes of the game on the bench.
Smart and Williams were both ruled out at halftime — Smart due to a right ankle sprain, and Williams with a hyperextended right knee (which is the surgically repaired side). Smart's injury looked particularly concerning, especially since trainers had to help him hobble off the floor.
After the game, Joe Mazzulla called Williams' absence in the second half a "precaution" and said Williams felt good coming off the floor. He added that Smart's availability would depend on pain tolerance.
White, meanwhile, banged knees with a Toronto player as he drove to the basket in the fourth quarter. Mazzulla said White was doing well after treatment postgame as well.
3. Grant Williams scored a career-high 25 points on 7-for-13 shooting, including 4-for-6 from behind the arc. He had a huge 15-point second quarter as the Celtics established a pattern of ball movement, which helped them enormously in the fourth.
Williams didn't have as much success getting into the paint in the second half against the Raptors' shot blockers, who handled all three of his forays to the rim and held him to 1-for-4 in the second half, but he did bury a fourth-quarter 3-pointer.
Much has been made of how much the Celtics will have to pay Williams in free agency, and he has certainly earned himself significant money. But the Celtics also might be glad his free agency is this offseason rather than next if his attacking off the dribble continues to improve. Williams is getting better and better at finding ways to leverage his bulk off the dribble, and Saturday showed both his potential and some of the work he still has to put in.
4. For the second game in a row, Al Horford hit the rim in a crucial minute to avoid a shot-clock violation (and on Saturday, he actually got it off in time).
Fresh off perhaps his best game of the season against the Warriors on Thursday, Horford shot just 2-for-10 from the field, but he had an enormous impact down the stretch. After Pritchard buried a 3-pointer and Pascal Siakam split a pair of free throws with 1:15 left to make it a 106-104 game, Horford hoisted a shot at the rim as the shot clock expired. It missed, but the Celtics grabbed the offensive rebound, and while they didn't score, they did drain nearly 45 seconds off the clock before the Raptors got the ball back.
Then Gary Trent Jr. missed an open point-blank layup, and Horford pulled down the rebound. Pritchard turned the ball over, and Horford then stopped Siakam in his tracks driving, forcing a jump ball. He won it, then forced a second jump ball with Scottie Barnes when the Celtics failed to secure it. Horford won that one too.
Then, after Grant Williams committed an offensive foul, Horford and Jaylen Brown teamed up to steal it away as time expired.
Not a bad way to end a 2-for-10 evening.
5. The Celtics won their first road game without Tatum in nearly three years, in part thanks to a big performance by Brown, who finished with 27 points, eight rebounds, and seven assists. Last season, with Tatum off the floor and Brown on, the Celtics were dead even with their opponents. This season, they outscore opponents by 6.2 points per 100 possessions in that same scenario.
The personnel around Brown has improved, certainly, but his improvements as a playmaker matter too. Three of his assists — including the final 3-pointer by Pritchard — were the result of a quick decision after multiple defenders swarmed him.
6. Brown was asked about being the No. 1 option in Tatum's absence, and — somewhat predictably — he balked a bit at the question.
"I just play the game," Brown said. "I let you guys determine what is the option, No. 1, No. 2, I just come out and play the game. The moment you start thinking that is the moment I think you'll start doubting yourself. There's no need to come out and play the game any other way than how I normally play, and that's how I see it. Tonight we was out guys, obviously I'll get more attention, but tonight, we had guys step up. We had Payton come out and play really well, Grant came out and got hot. That's what we need. We're a team."
Brown also may have come close to accidentally violating the CBA.
"It doesn't matter who rolls the ball out or which team is doing what — I got my money on the C's," Brown said, before looking up quickly at Celtics PR with a smile. "I don't know if I can say that."
Don't get Pete Rose'd, Jaylen.
7. The banged-up Celtics now face the Magic and the Heat on a back-to-back on Monday and Tuesday, which will be a three-games-in-four-nights stretch. The Celtics have been excellent on back-to-backs this season (and have struggled against Orlando), but given the injuries to key players, it's worth wondering whether we might see several key players missing against the Magic
We'll find out at 7 p.m. on Monday.
Sign up for Celtics updates🏀
Get breaking news and analysis delivered to your inbox during basketball season.


[ad_2]

Source link
Related posts