[ad_1]


Patriots
Several intriguing prospects will be coached by the Patriots' staff this week, including a couple wide receivers with local ties.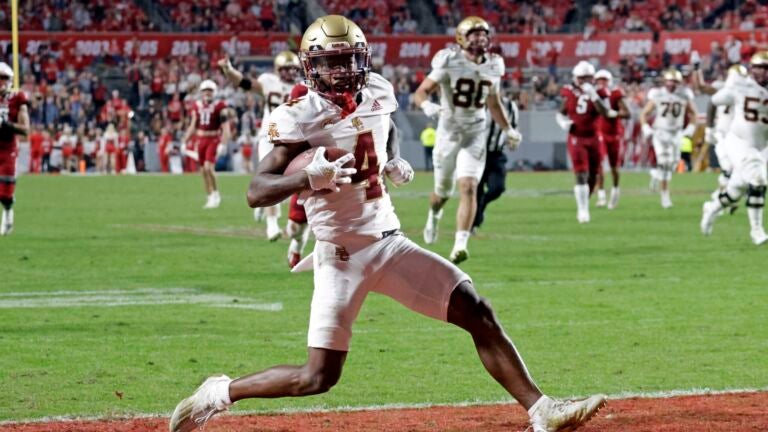 The Patriots have the rare opportunity to get an up-close look at top draft prospects this week at the East-West Shrine Bowl.
New England's coaching staff is coaching the West team for the game, which takes place in Las Vegas on Thursday. But practices are already underway and players are starting to showcase their talent to Bill Belichick and Co.
Here are seven players on the West team coached by the Patriots to keep an eye on during the week and during Thursday's game.
Boston College wide receiver Zay Flowers
The Boston College product might be the top prospect playing in the East-West Shrine Bowl this week.
Flowers is projected to be a top-50 pick in the 2023 NFL Draft, with several mock drafts having him going in the back half of the first round.
In his sophomore season, Flowers caught 56 passes for 892 yards and nine touchdowns over 11 games during the 2020 season. Phil Jurkovec's injury impacted his production a bit in 2021, posting fewer receptions (44) for fewer yards (746) and receiving touchdowns (five).
But Flowers found a way to make plays in a tough 2022 season for the Eagles. He had 78 receptions for 1,077 yards and 12 touchdowns while BC had multiple issues at quarterback during the season.
Flowers made several highlight-reel grabs during the 2022 season, too. Perhaps his most impressive was his 57-yard touchdown grab against Louisville where he caught the ball over two defenders before running into the end zone.
A possible knock against Flowers is his size. He measured 5-foot-9 and weighed 182 pounds at the beginning of the week, which is considered smaller than average for a receiver.
UCLA wide receiver Jake Bobo
Could a homecoming be in store for the Concord native? Bobo's seemed to have left a good first impression on the Patriots as he's been described as one of the "winners" in the first practices ahead of Thursday's game, grabbing a few receptions and a touchdown during 1-on-1 drills.
Prior to the East-West Shrine Bowl, Bobo played college ball for five seasons, spending his first season at Duke. He wasn't too productive with the Blue Devils until his final season there, recording 74 receptions for 794 yards and a touchdown.
Bobo transferred to UCLA ahead of the 2022 season and ended up playing a crucial role in the Bruins' 9-4 season. While Bobo didn't have as many receptions (57), he ended up making bigger plays instead as he had 817 receiving yards and seven receiving touchdowns.
Bobo presents more size than Flowers. He checked in at 6-foot-4 and 216 pounds during the weigh-ins earlier in the week.
The Draft Network projected Bobo to be a fifth-round pick prior to the Shrine Bowl.
Minnesota running back Mohamed Ibrahim
One of the top running backs in the nation over the past few years is in Las Vegas this week to play in the Shrine Bowl.
Ibrahim has posted three 1,000-plus-yard rushing seasons over the last five seasons, including in 2020 when he rushed for 1,076 yards in just seven games. After his Achilles tendon ruptured in Week 1 of the 2021 season, Ibrahim returned to have an even better season in 2022, rushing for a Big Ten-best 1,665 yards and 20 touchdowns.
Ibrahim wasn't much of a pass-catcher in college, recording just 22 receptions over his five-year tenure at Minnesota. But he's impressed during the 1-on-1 receiving drills against linebackers during the early practices at the Shrine Bowl.
Ibrahim is currently projected to be a middle-round pick and while running back isn't the most pressing need for the Patriots, they've been known to draft and stash players at that position in the past.
Ole Miss offensive lineman Mason Brooks
It's no secret the Patriots need some offensive line help, and they might be able to find a prospect that has versatility at the Shrine Bowl.
Brooks, who checked in at 6-foot-5 and 309 pounds at the Shrine Bowl weigh-ins, played left tackle and right tackle over his four seasons at Western Kentucky, where he had a good deal of success. He allowed just six sacks and 34 hurries over four seasons with the Hilltoppers, where he was teammates with Patriots quarterback Bailey Zappe for a season.
Brooks transferred to Ole Miss ahead of the 2022 season and played right guard there. He didn't allow a single hurry in eight games, per NFLDraftBuzz.com.
Brooks has also been viewed as one of the early winners of the week at practice, with draft evaluators being impressed by him in 1-on-1 drills. He's currently slated to be a mid-to-late-round pick.
Pittsburgh defensive end Habakkuk Baldonado
Edge rusher is certainly far from one of the biggest needs for the Patriots, but you can never have enough quality players that can get to the quarterback.
Baldonado proved that at the college level, recording nine sacks and 12 tackles for loss in 14 games with the Panthers in 2021. He took a bit of step back in 2022 as he only had two sacks in nine games while dealing with an undisclosed injury.
Baldonado is making a good impression at practice, and certainly has the size to play in the league as he checked in at 6-foot-3 and 257 pounds earlier in the week. The Athletic's Nick Baumgardner believes that Baldonado should be able to add weight without it affecting his athleticism, too.
Baldonado is also relatively new to the game. The Italian native played football for a couple of years in his home country before moving to the United States in 2017, becoming the first Italian player to join a Division I school as a freshman.
UAB cornerback Starling Thomas V
If the Patriots want more speed at corner, Thomas might prove to be the guy they're looking for at the Shrine Bowl.
The UAB product has blazing speed, running a 10.4 100-meter dash in high school and his top speed reached 24.16 mph on the GPS. Thomas was originally listed at 6 feet tall, but he checked in at 5-foot-9 earlier this week. Still, Thomas has been credited for his toughness as he reportedly played seven games on a torn ACL in 2019.
In terms of his coverage ability, Thomas recorded nine pass breakups and opposing quarterbacks had a passer rating of just 62.9 when targeting him in 2022. He recorded three interceptions over four seasons.
Michigan kicker Jake Moody
The Patriots will have the opportunity to coach one of the best kickers in the college game over the last few seasons at the Shrine Bowl.
Moody was stellar at Michigan, making 23-of-25 kicks with a long of 52 yards when he replaced Patriots practice squad member Quinn Nordin in 2021. Moody's performance that season earned him the Lou Groza Award as the nation's top kicker.
Moody continued to perform well in 2022, making 29-of-35 kicks to set Michigan's single-season scoring record. He made a 59-yard field goal in the Wolverines' Fiesta Bowl loss to the TCU Horned Frogs, which could make him an enticing option for the Patriots if they decide to move on from the aging Nick Folk this offseason.
Get the latest Boston sports news
Receive updates on your favorite Boston teams, straight from our newsroom to your inbox.


[ad_2]

Source link
Related posts