6 takeaways as Magic continue to baffle Celtics, snap winning streak
Peter Tanner, 5 months ago
6 min

read
43
[ad_1]


Celtics
The Celtics have been unable to figure out the Magic this season.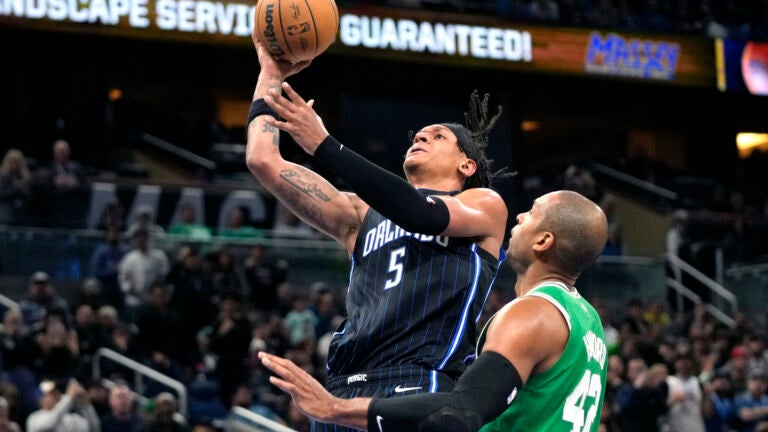 The Celtics fell to the Magic for the third time this season on Monday, fading down the stretch in a 113-98 loss.
Here are the takeaways.
1. Why do the Celtics struggle so much with the Magic?
There are a number of reasons. For one thing, the Magic are young, athletic and very promising, but they aren't particularly competitive in the grand scheme of the Eastern Conference. Even after dropping back-to-back games in Boston to the Magic, the Celtics — who have built themselves a nice lead in the Eastern Conference standings once again — might not feel particularly inspired against the No. 13 seed.
Still, the Magic aren't just a trap game. Paolo Banchero is the real deal — a budding superstar even if his 3-for-5 performance from deep was a bit flukey (and especially if it wasn't). Jonathan Isaac gave the Celtics fits defensively in his return to the floor after a pair of leg injuries that held him out for two years. Cole Anthony exploded to the rim to shoot 8-for-12 from the floor. Wendell Carter Jr. hit 3-for-4 from deep and grabbed 11 rebounds. The Magic are heat lightning, a storm flickering threateningly on the horizon.
There were almost statistical oddities, including the free-throw and foul disparities which both favored the Magic — 24-11 in free throws and 23-12 in fouls.
And finally, of course, the Celtics were very short-handed. Malcolm Brogdon, Marcus Smart and Robert Williams all sat out Monday's game, which messed with the Celtics' rotations and removed both bench depth and their defensive core. Jayson Tatum played extended minutes, but he also removed himself from the game briefly with an odd ailment in the third quarter.
Calling Monday's game a schedule loss discredits the Magic a little more than we feel comfortable with, but while the Magic certainly played well enough to win, the Celtics also aided them with turnovers, mental lapses and a number of crucial absences.
2. Tatum's absence was strange, and it remained unexplained postgame, when he told reporters it wasn't a rib injury but just stomach pain.
Tatum exited the game with just under seven minutes remaining in the third quarter and returned with 2:04 remaining. When he committed an intentional foul to get off the floor, the Celtics led by two. In his absence, the Magic rattled off a 20-5 run and took a 13-point lead. Tatum finished +6, the only rotation player on Monday to finish in the positives.
3. Jaylen Brown hit three of his first four 3-pointers, all in the first quarter, but he went 2-for-7 the rest of the way from behind the arc. More problematic: He turned the ball over four times in the third quarter, including three times during the short stretch when Tatum was off the floor. The Celtics really needed a better stretch from Brown with their other star in the locker room.
4. After a pair of DNP-CDs in his last two games, Sam Hauser — who has been mired in a lengthy shooting slump after his incredible start to the season — finished 3-for-6 from behind the arc and scored 13 points.
Perhaps notably, Hauser made his first 3-pointer, which seemed to get him started on the right foot. The Celtics needed bodies, and Hauser played just under 20 minutes as a result.
Hauser told reporters postgame that there isn't anything wrong with his shot, other than that he simply hasn't been able to get it to fall recently.
"It was good to get back in the rotation with guys out," he said. "It was a good opportunity for some of us to come in and provide productive minutes. Tried to do my best out there, sucks that we lost, but it was good to be back out there. …
"Honestly, not playing the last couple games, it motivates you to work harder. when you get your chance, you don't want to take it for granted, you just want to give it your all. I think I did that pretty well tonight."
The Celtics would have liked a win, but if key absences help spark one of the NBA's on/off kings in November back to productivity, they might be pretty content with that trade.
5. Payton Pritchard probably has an NBA future as a regular rotation player, but on the Celtics, he might be best suited as a change-of-pace player who provides quick bursts of energy. On Monday, he played 30 minutes with Brogdon and Smart both sidelined, and while he was good in spurts, he finished with just five points on 2-for-6 shooting (1-for-4 from three).
6. Derrick White is the only Celtics player who has played every game this season, and he told reporters he will be all right after suffering a mild neck injury of some kind in the second quarter. White returned and put up eight points, four rebounds, and three assists in the second half. It remains to be seen if his streak will stay alive with the Celtics returning to the floor on Tuesday.
The Celtics take on the Heat on Tuesday as part of the NBA's rivalry week slate. Tip off will take place at 7:30 p.m. on TNT.
Sign up for Celtics updates🏀
Get breaking news and analysis delivered to your inbox during basketball season.


[ad_2]

Source link
Related posts