5 things we learned from Charlie Baker's exit interview
Peter Tanner, 3 months ago
5 min

read
34
[ad_1]


Politics
Baker discussed whether running for public office again could be in the cards.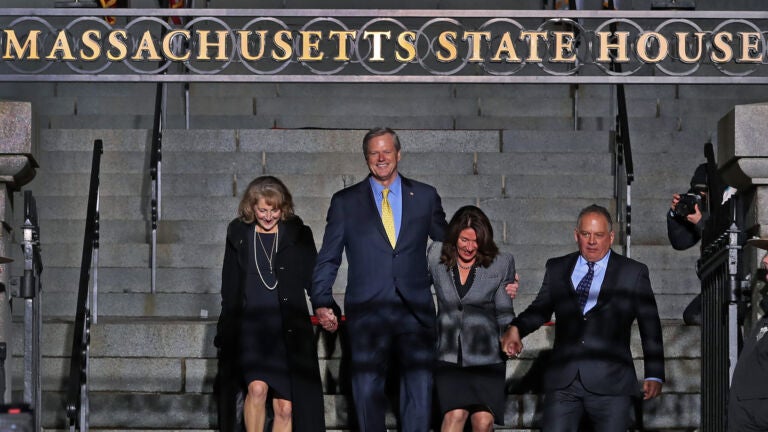 Massachusetts Gov. Charlie Baker left office Wednesday evening, completing his eight years as the state's top executive official.
But before he left, Baker let 7News into his Swampscott home for an interview with him and his wife, Lauren, before he begins his new job as the president of the NCAA as well as his family role as a grandfather.
The couple talked about why the outgoing governor decided not to run again, what he wants to be remembered for, and whether or not he may run for public office again in the future.
1. One reason he decided not to run again was so he could be more present with his family
Baker said one of the things he and his wife talked about when deciding whether or not he should run for governor again was how being governor was impacting his relationship with his family.
"There were a lot of days I was here, but I really wasn't," he said.
"It's hard for him to be fully present because the phone rings 24 hours a day," Lauren Baker continued. "There's always something going on, and Charlie feels really, really responsible to make things happen."
2. He learned bipartisanship from his parents
Gov. Baker said he learned how to engage with people from both political parties watching his parents as a kid.
"Mom was a Democrat and dad was a Republican," he said. "I learned pretty early on that you can have a conversation and you don't have to agree all the time. Listening is really where growth and opportunity comes from."
3. He wants to be remembered for 'the work'
Baker told 7News that the work he is most proud of doing as governor was helping people battling substance abuse disorders.
On Tuesday, he opened 25 new community behavioral health centers and a free crisis helpline for Bay Staters.
"A lot of what went on in politics was about the noise and not about the work," he said. "I hope one of the things we will be remembered for is setting a tone that was about the work."
4. People love the outgoing first lady
Lauren Baker is known for creating the Wonderfund, a charity that raises money for children involved with the Department of Children and Families, providing them with things like emergency services, everyday essentials, cultural experiences, and holiday gifts.
"For me, it's always been about kids," she said.
"People come up to me all the time and say 'I really like you Governor Baker, but I love your wife,'" Baker said.
5. He's keeping his options open for running for office again
Gov. Baker told 7News he hasn't ruled out running for public office again, but he's still months away from starting as the new president of the NCAA.
In the meantime, he said, he'll miss interacting with his constituents.
"I'll certainly miss the people of Massachusetts most of all," he said.
"It's an incredible difference to deal with people across the Commonwealth who are completely familiar with you because they see you all the time in the news. So they talk to you like you're their neighbor, good or bad. There's no job I can think of where you get this close to the people you're working with than this one."
Newsletter Signup
Stay up to date on all the latest news from Boston.com


[ad_2]

Source link
Related posts